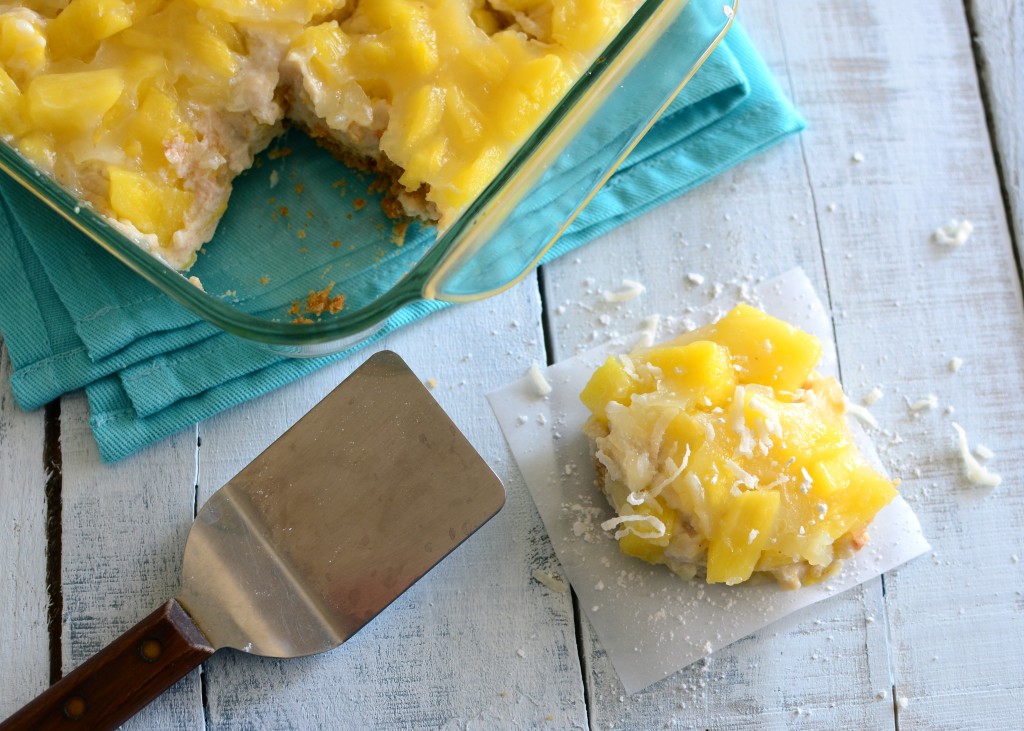 I walk up to the front door and let myself in. There's no need to knock because I know I'm always welcome here. We're all welcome here. You see, the people that live here are the same as family to us.
I hear the sounds of laughter echoing inside this home. I see the smiling faces of my friends and remember all of the happy memories that this place holds for me. Being here, laughing and sharing with others, is like being right at home. I know I belong.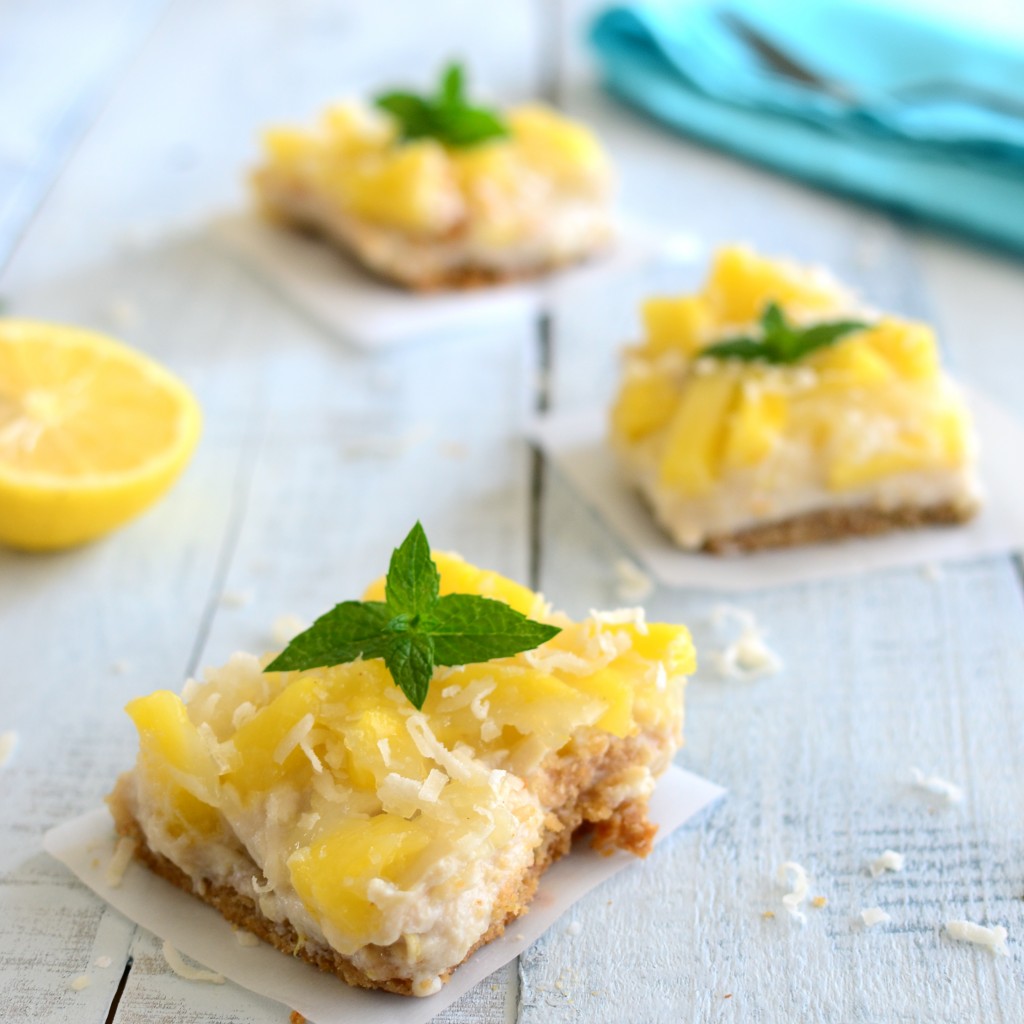 It's hard to put into words what Carl and Margie, the owners of this house, mean to me. What they mean to all of us that are gathered here. We would say they're like our parents, since chronologically they could be, but somehow that doesn't describe them. We could call them our mentors, but that still doesn't do justice to our relationship with them. In truth, the only two words that describe them are friends and family.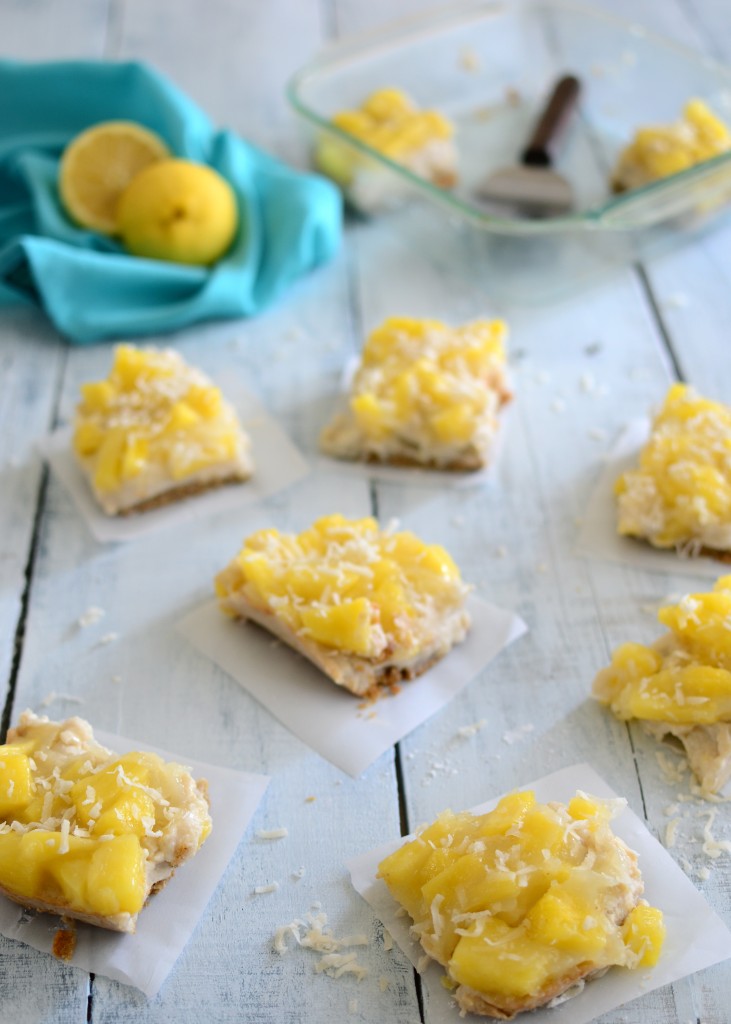 And why is it that we are all so blessed? We're just a bunch of young kids to them, just college students and twenty-somethings. They're just some church members. But truthfully, they are so much more than that to us. They offer each of us a place to call home while we're so far from ours.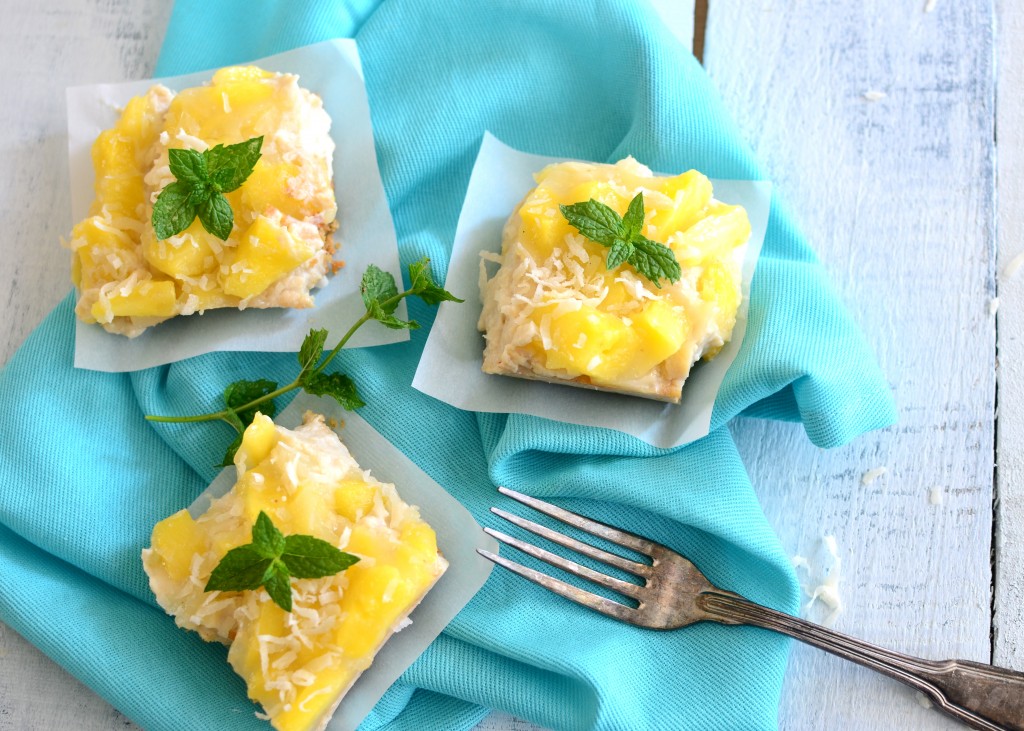 Alongside the laughter, a wonderful aroma overwhelms me. As much as I can count on love in this home, I can also depend on a delicious home-cooked meal every time I arrive. Today, each of us has brought a dish to share to celebrate the birthday of two dear friends of ours.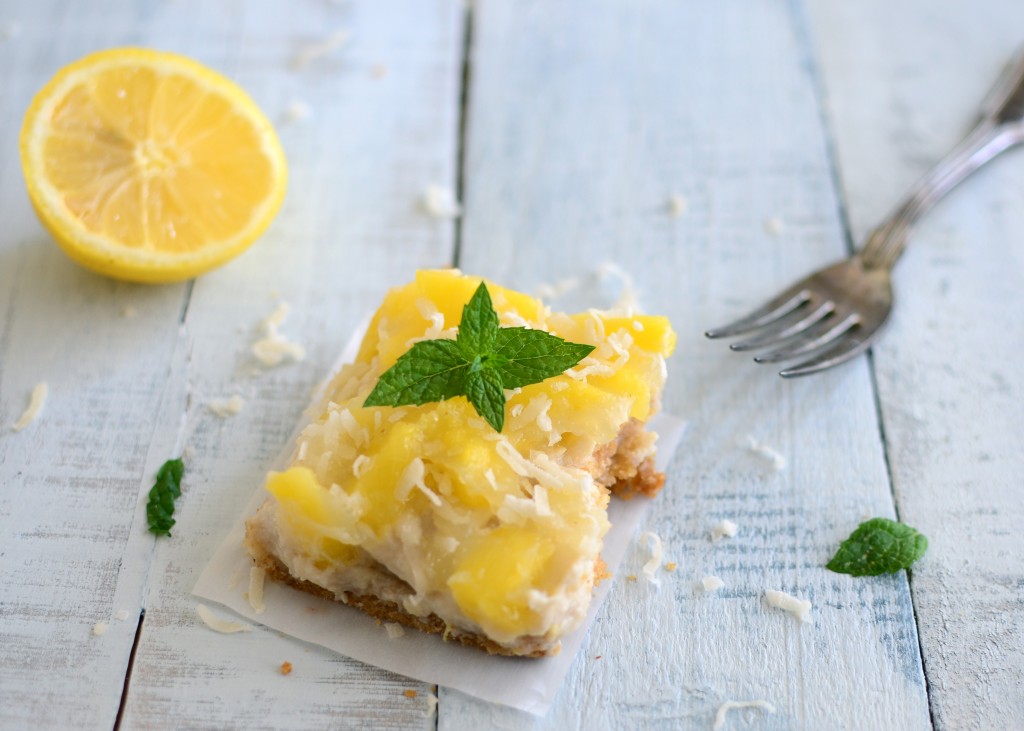 The table is overflowing with tasty morsels. A plateful of brightly colored pineapple bars catches my eye, and I help myself. Happily, I taste the first bite and revel in the burst of flavor. My heart is happy and thankful for pineapple cheesecake bars, but mostly for all the people I can call my family who are here to enjoy them with me.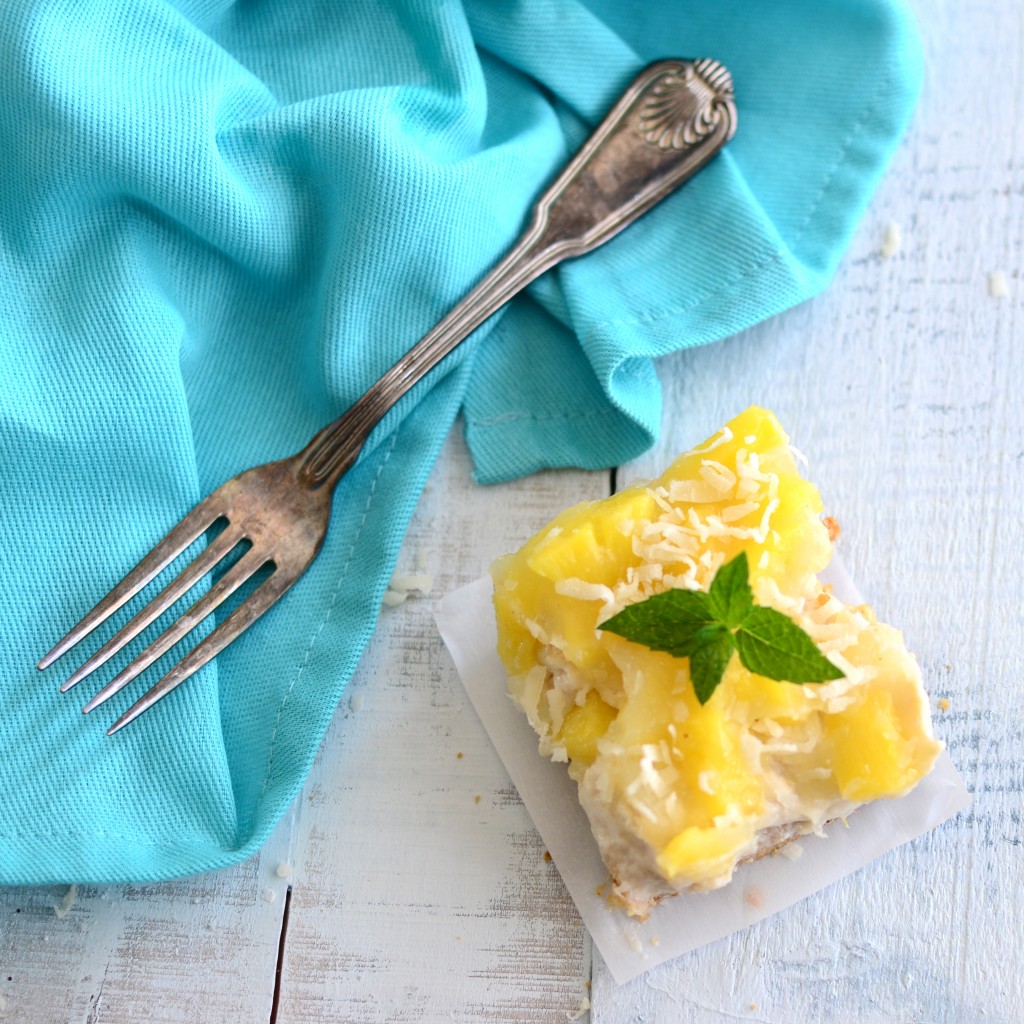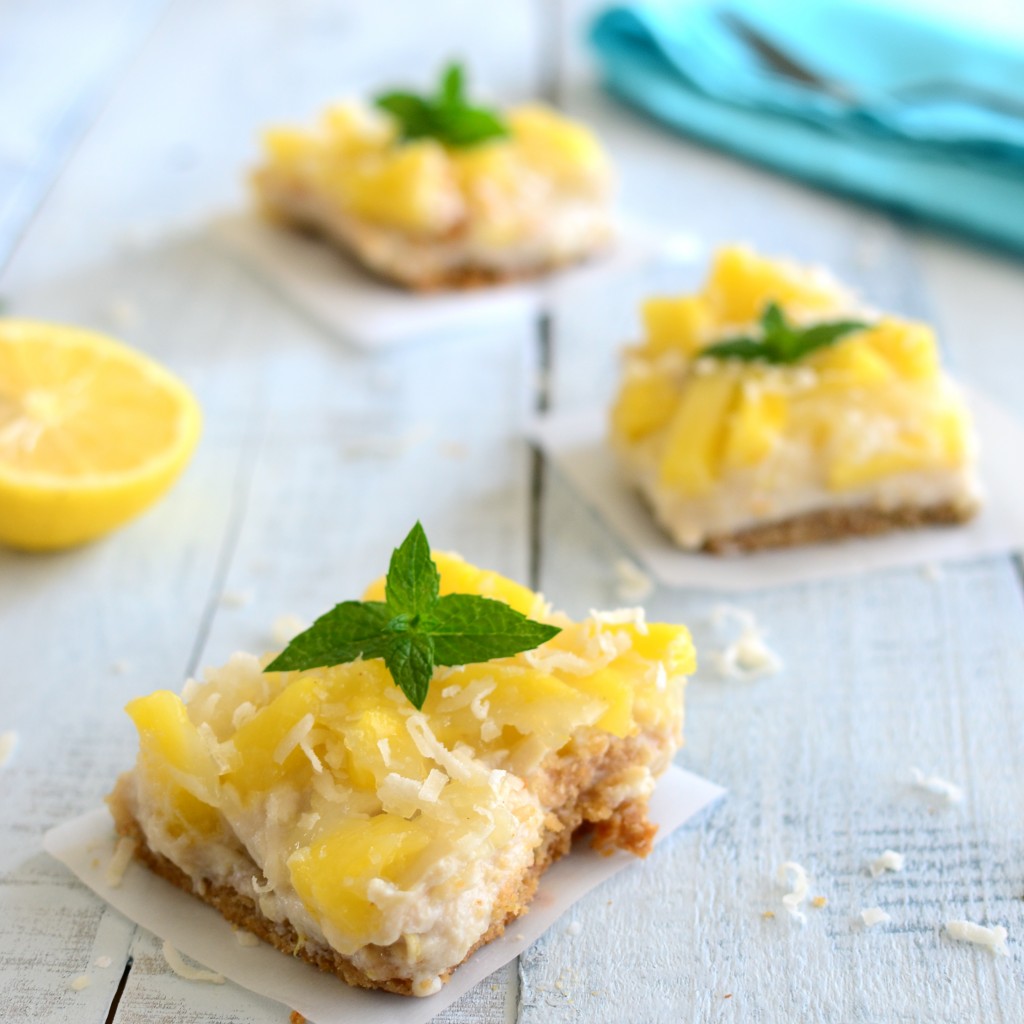 Pineapple Cheesecake Bars
2013-09-12 16:09:19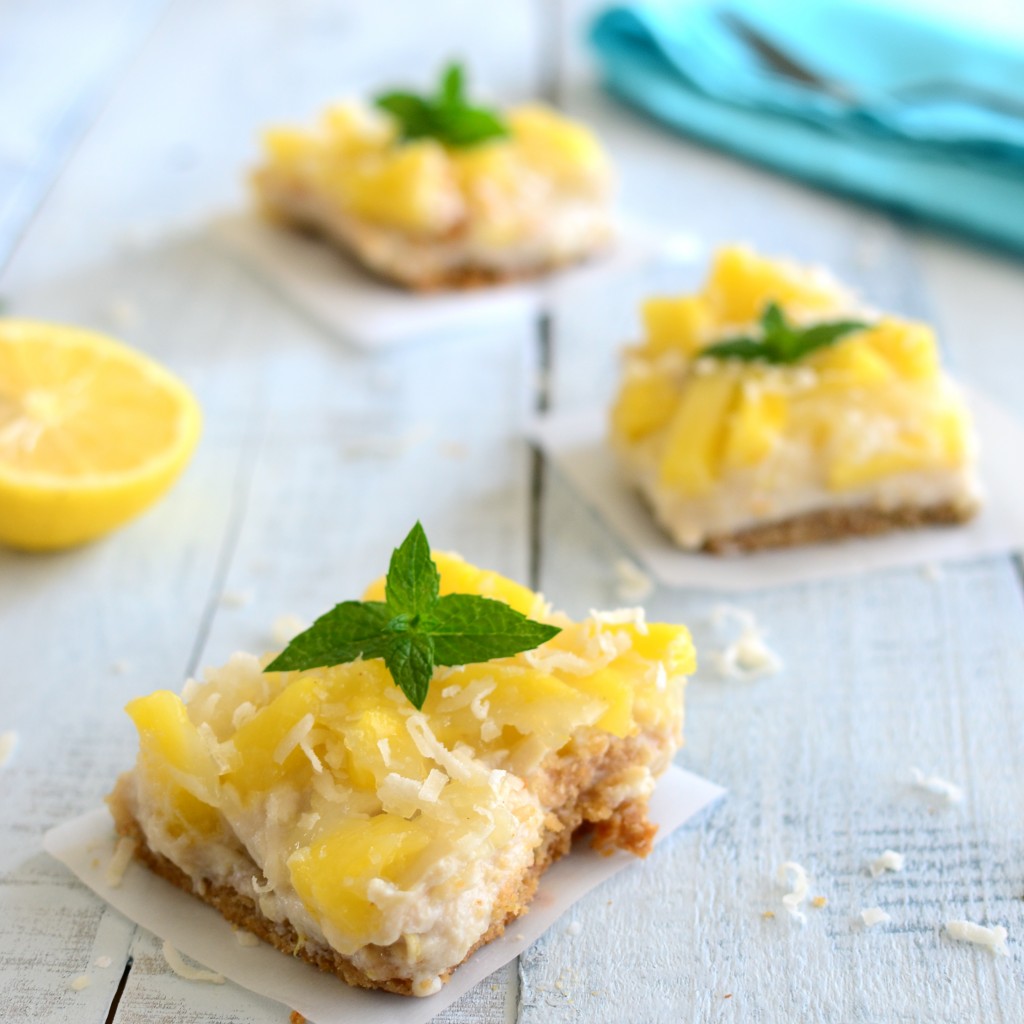 Serves 9
For the crust
1/2 C. white whole wheat flour (for gluten-free, use gluten-free flour)
1/2 C. quick oats
1/4 C. almonds
1/4 C. shredded coconut
1/2 tsp. salt
2 Tbsp. brown sugar
2 Tbsp. coconut oil
1 Tbsp. soymilk
For the cheesecake
1 12-oz. box of Mori-Nu silken tofu
1/2 C. almond milk
1 banana
3 T. sugar
1/4 C. lemon juice
2 Tbsp. coconut oil
2 Tbsp. cornstarch
1 Tbsp. vanilla extract
dash of salt
For the pineapple topping
1 fresh pineapple, diced (see notes)
2 Tbsp. sugar or agave nectar
2 Tbsp. lemon juice
1 Tbsp. cornstarch
3 tsp. vanilla
dash of salt
For the crust
Pulse the flour, quick oats, almonds, coconut, salt, and brown sugar together quickly in the blender until coarse and crumbly.
Pour dry mixture into a small mixing bowl.
Add in soft or liquid coconut oil and soymilk.
Mix all ingredients together thoroughly.
Press crust into the bottom of a 8x8 or 9x9 pan. Press very firmly to help it hold together.
For the cheesecake
Preheat oven to 350 degrees.
Blend together all of the cheesecake ingredients together on high until thoroughly mixed and creamy.
Pour over crust.
Bake at 350 degrees for approximately 1 hour or until it is slightly golden-brown on top.
For the pineapple topping
Put pineapple in a saucepan. Begin to heat on low.
In a small container, shake together the lemon juice and cornstarch.
Pour lemon juice mixture over the pineapple.
Add in the vanilla, sugar, and salt, stirring constantly.
Once mixture thickens, pour into a small container and place in the refrigerator.
To assemble the bars
Once bars have finished baking, remove from oven. Spread the pineapple mixture on top. Slice into 9-12 bars. Serve chilled.
Notes
My pineapple ripened before I was ready to use it, so I peeled it and diced it and put it in the freezer until I was ready for it. Worked great!
You can use any fruit topping you want for this. I made a similar dessert for Ryan's birthday using sliced fresh mangoes and a purchased graham cracker crust. It was just as delicious!
Adapted from Isa Chandra Moskowitz
Adapted from Isa Chandra Moskowitz
Veggie On A Penny http://www.veggieonapenny.com/