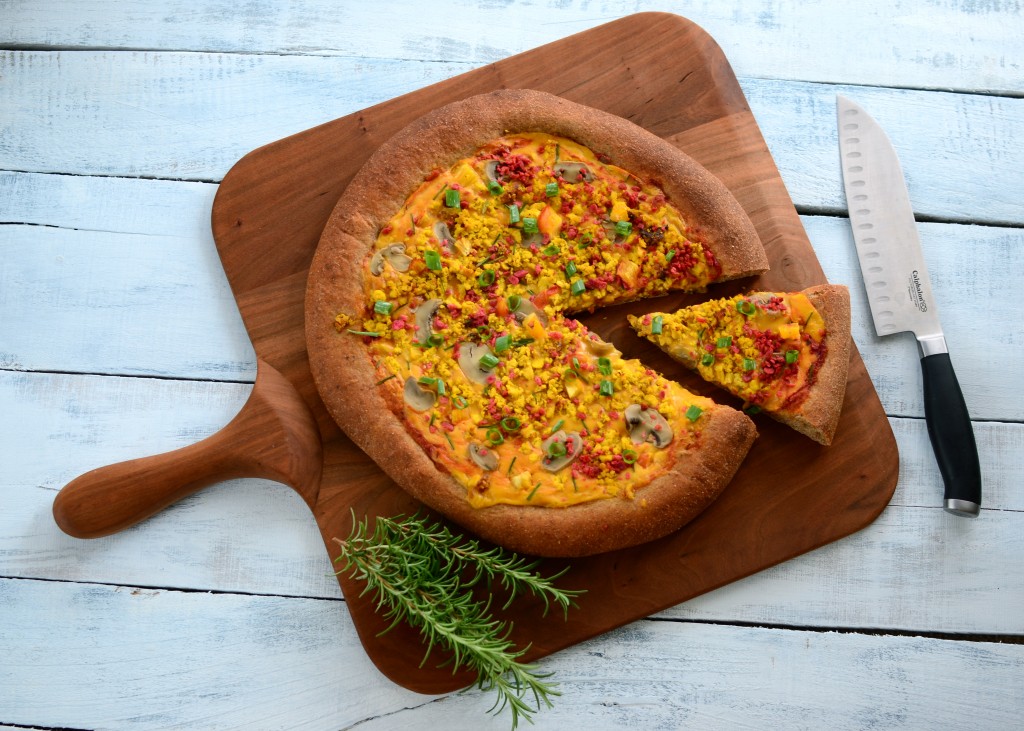 Pizza. Next to hot dogs, it's the quintessential American food. And who doesn't have good memories tied up in pizza? In fact, one time I ate a large pizza all by myself for one single meal. I was in a kids' club called Pathfinders kind of like boy scouts or girl scouts. My friends wanted to see how much I could shove down. I showed them I could shove one whole large pizza down. I know, so impressive, right?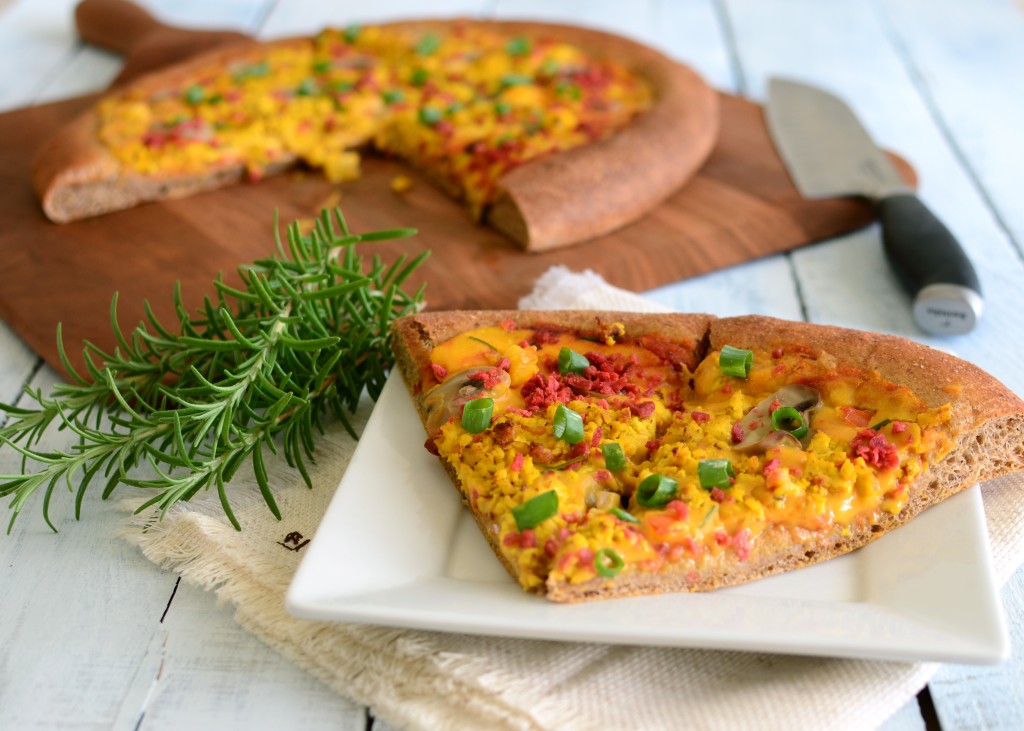 One morning this summer I was home visiting my family and wanted to make them an extra-special breakfast. I didn't want it to be anything ordinary. That's when the idea came to me to make an herbed breakfast pizza. Wow, pizza for breakfast, with herbs, does it get any better.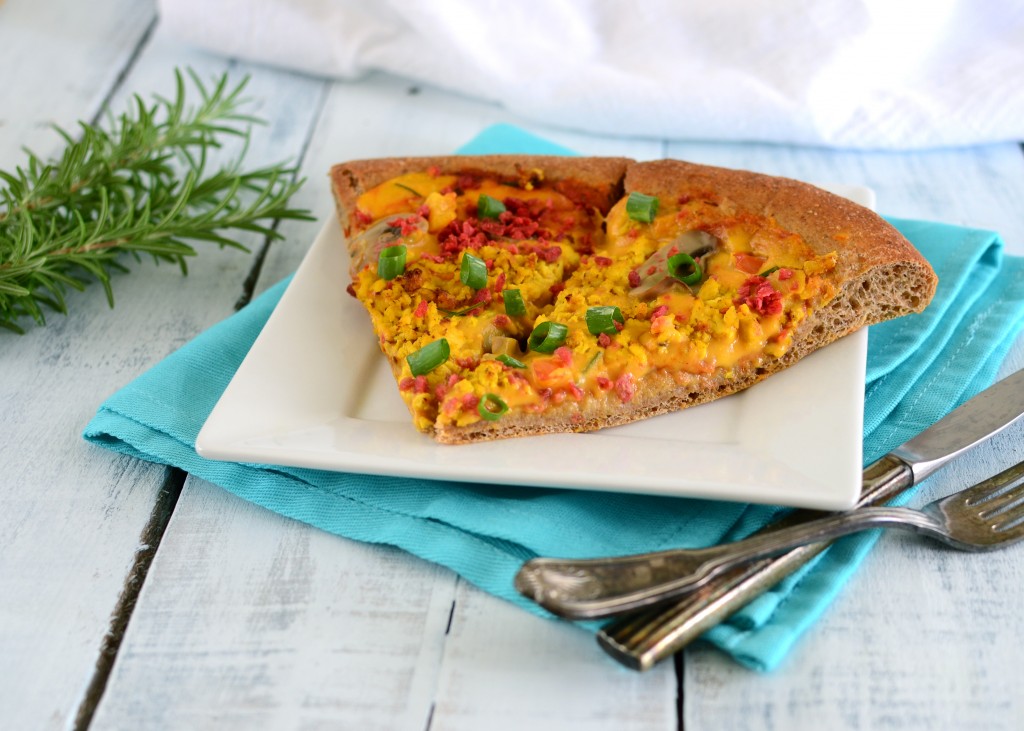 The toppings on this pizza are reminiscent of breakfast burritos, which happen to be my all-time favorite breakfast food. Try switching this pizza up a bit by adding hashbrowns or pineapple.
So, how much pizza can you eat at once? Have you ever been in a food-eating contest?
As a side note, Ryan made the gorgeous pizza peel featured here. What a talented guy!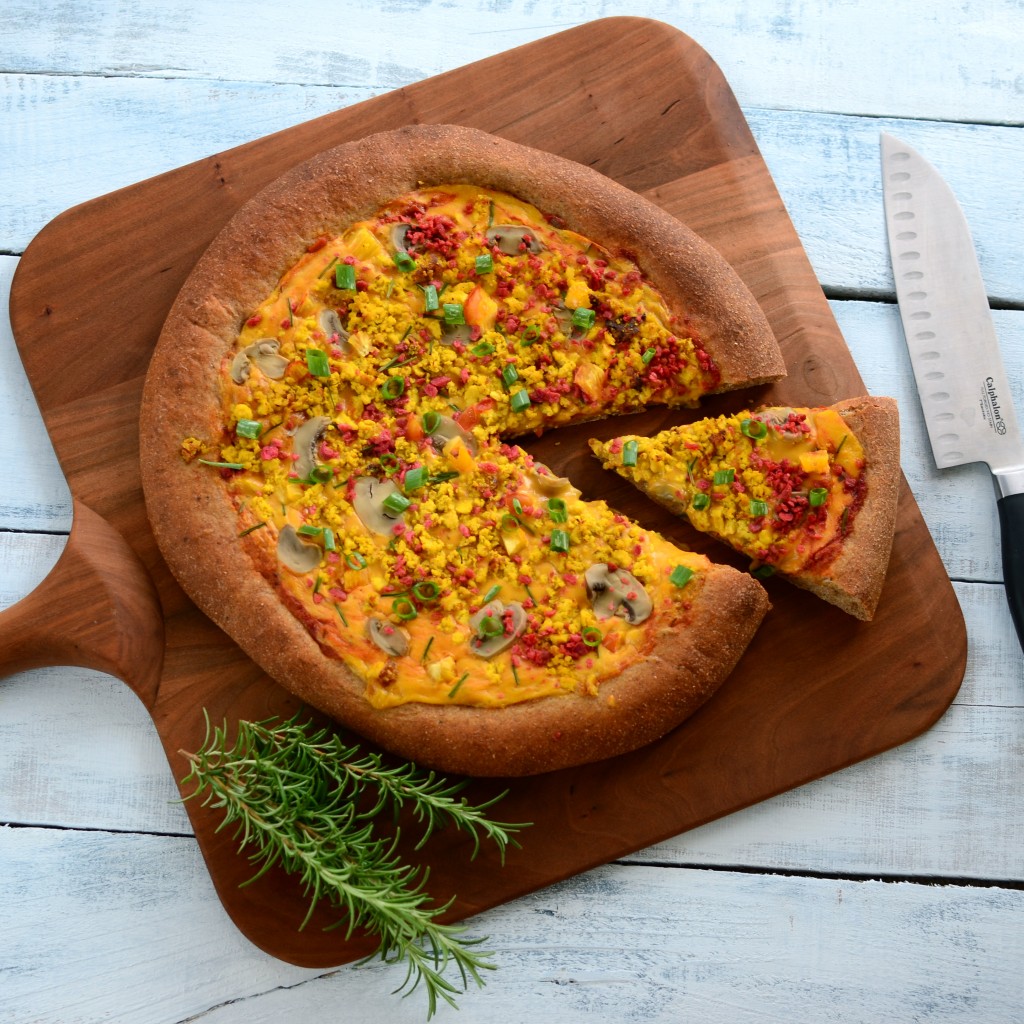 Herbed Breakfast Pizza
2013-09-06 17:23:46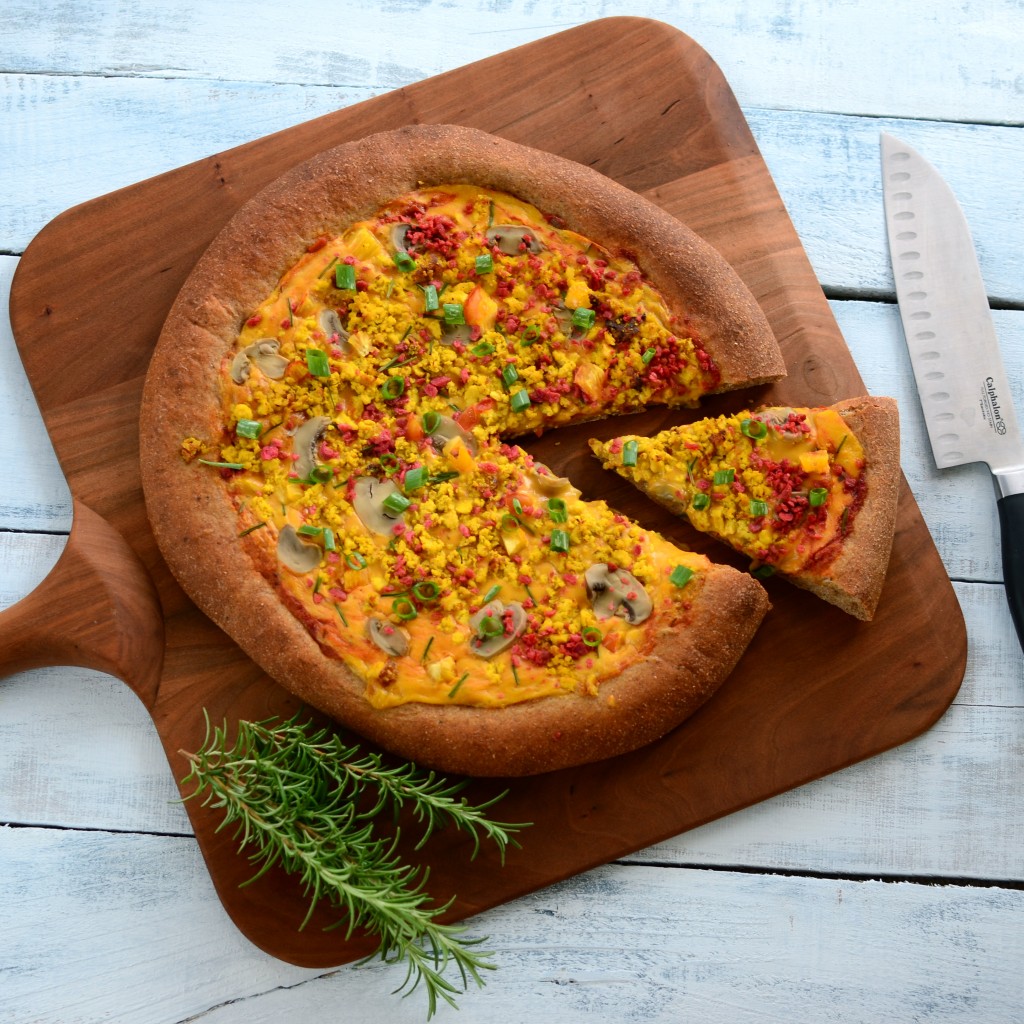 Serves 5
An American classic for breakfast
For the dough
1 1/4 C. lukewarm water
1 Tbsp. oil
2 Tbsp. agave or honey
2 1/4 C. whole wheat flour
1/4 C. white flour
1/4 C. gluten flour
2 Tbsp. ground flax seed
1 1/2 tsp. yeast
1 tsp. salt
1 Tbsp. dried basil
1 tsp. dried oregano
2 tsp. garlic powder
1 tsp. onion powder
1/4 C. tomato sauce or pizza sauce
1 C. vegan cheese
Toppings of choice such as mushrooms, green onions, vegan baco bits, and tofu.
Scrambled tofu topping (optional)
10 oz. firm tofu
1 T. soy sauce
1 tsp. olive oil
1/2 tsp. onion powder
1/4 tsp. garlic powder
1/8 tsp. turmeric
1 tsp. McKay's vegan chicken seasoning or salt to taste
dash of cumin
For the dough
Knead the water, oil, sweetener, flour, yeast, flax seed, salt, and seasonings in a bread maker, in a stand mixer, or by hand. Knead approximately 15 minutes or run on the "dough" cycle in your bread maker.
Drop dough out onto counter.
Place on a baking sheet (see notes) and roll into desired shape about 1/4 inch thick. (It will raise a lot!)
Form raised crust edges with fingers.
Place in a warm place to raise for 1-2 hours, depending on your patience levels.
Preheat oven to 375 degrees.
After dough has raised, spread sauce evenly on pizza.
Spread vegan cheese carefully on top of sauce.
Sprinkle toppings onto pizza.
Bake at 375 for 25-30 minutes or until crust is golden-brown.
Serve hot.
Tofu topping (optional)
Mash approx. 10 oz. of tofu.
On medium heat, fry tofu in a non-stick frying pan.
Add the soy sauce, olive oil, onion powder, garlic powder, and turmeric to the tofu, stirring frequently.
Continue to fry for 5-10 minutes or until slightly browned and crispy.
Notes
I use a stone for baking pizza since it bakes very evenly on the bottom. Cookie sheets do work as well but you must watch it so that it doesn't burn on the bottom.
Veggie On A Penny http://www.veggieonapenny.com/