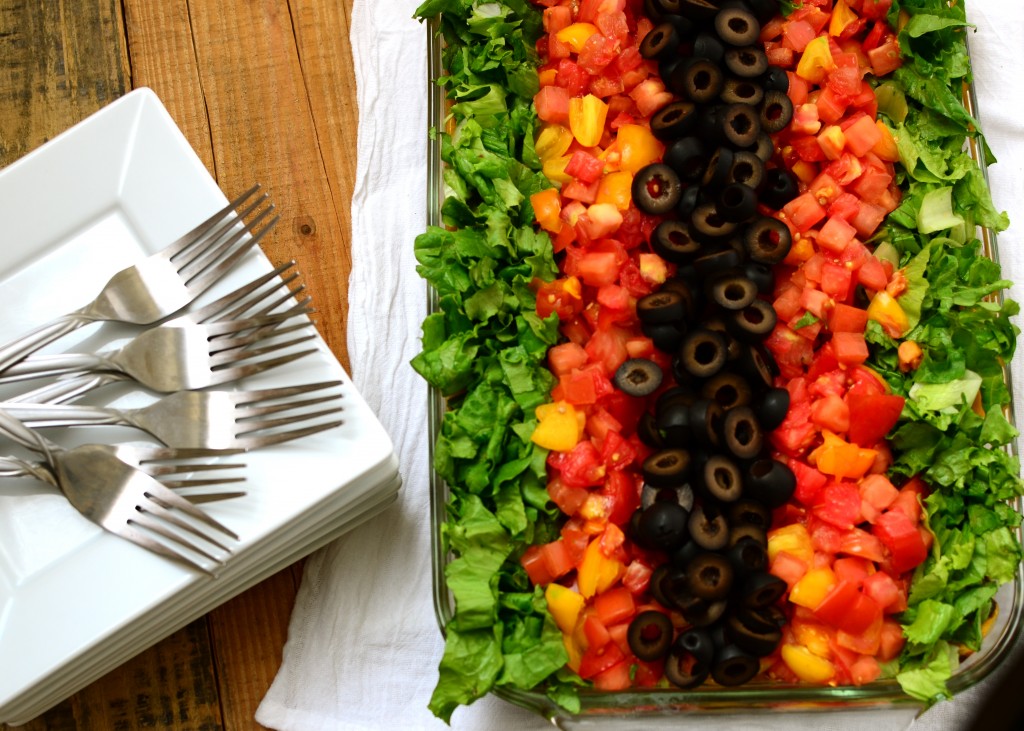 Taking a dish to a potluck full of meat-eaters can be pretty stressful for a vegan. It's a trick to find the perfect thing that will satisfy everybody, especially if you're trying to stick with a budget.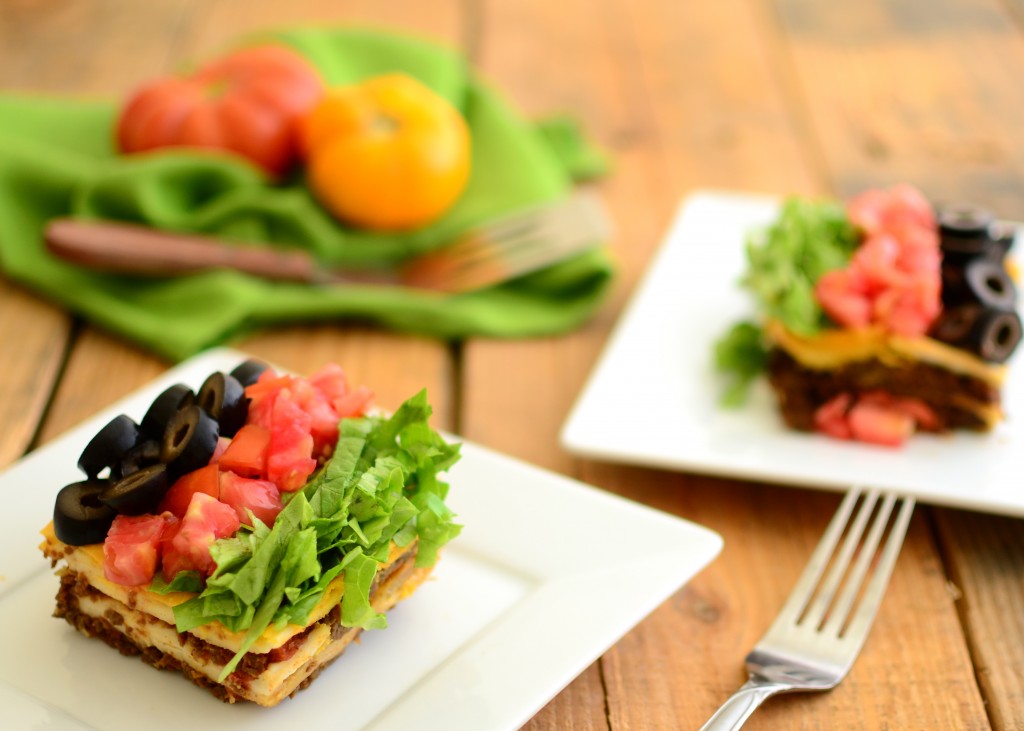 So remember those baby blankets that I was sewing back during my Mac 'n Cheese post? Well, I went to a baby shower yesterday for one of my co-workers who was the recipient of one of those little blankets. Incidentally, that baby shower was also one of those stressful moments when a vegan tries to please very non-vegan coworkers with her food.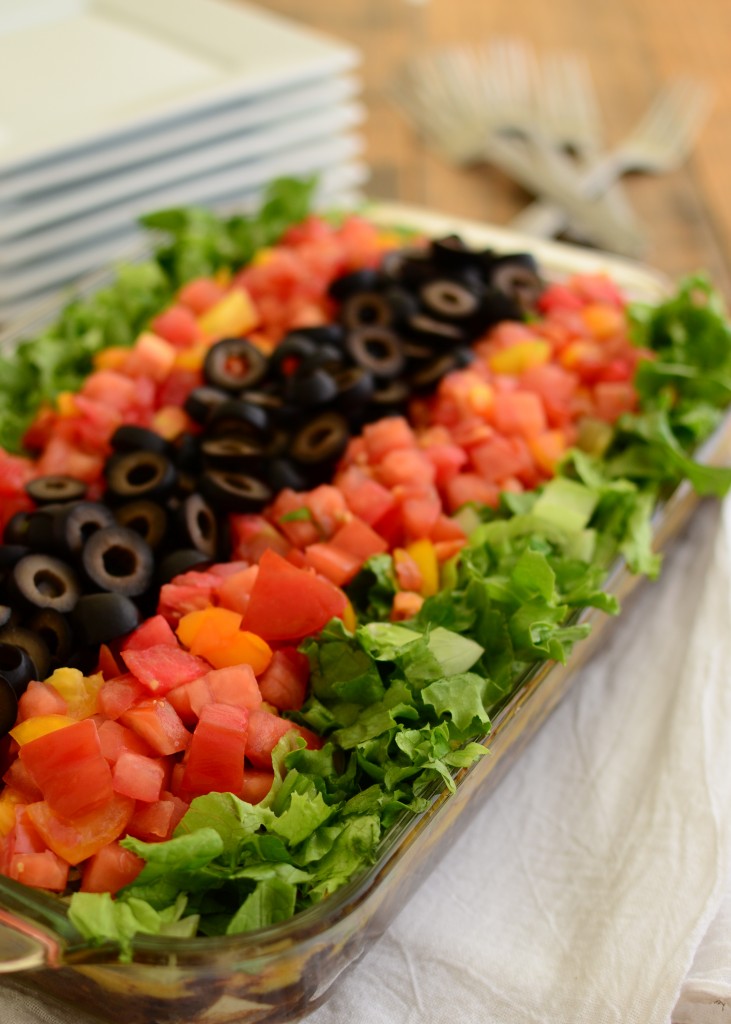 A couple of nights before the shower, I was laying in bed awake in the middle of the night tossing around ideas in my mind of what I could take that would be simple, yet satisfying. That's when I settled on this enchilada casserole. I love this enchilada casserole because it's easy to make, filling, and best of all, has a stunning presentation.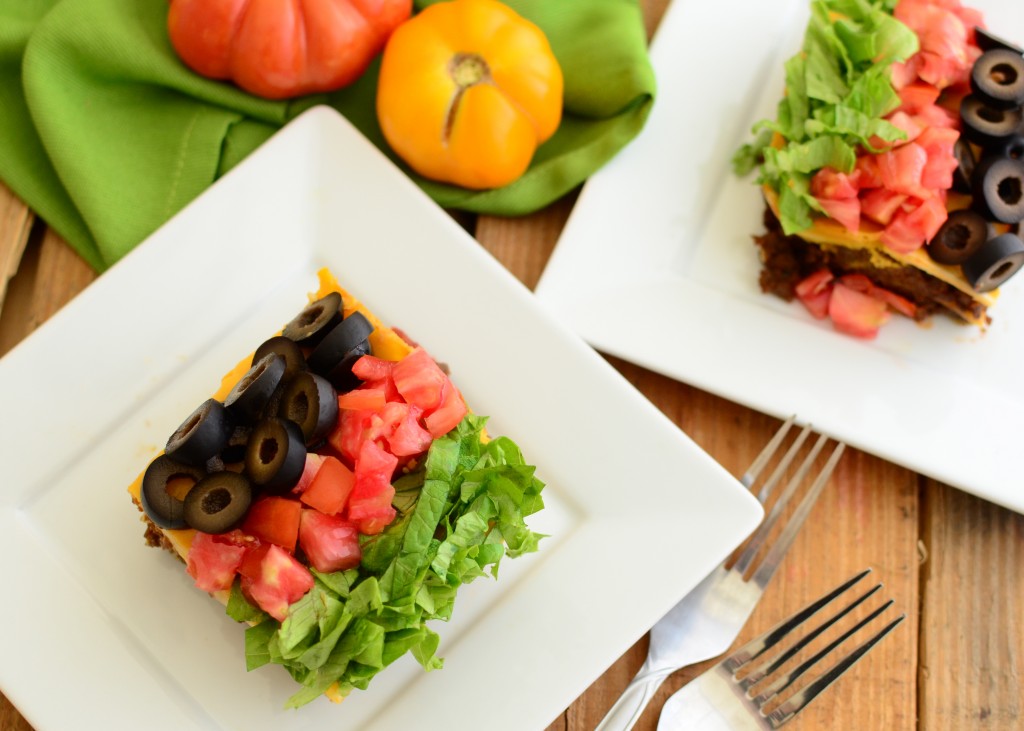 Once I finished making this enchilada casserole yesterday morning, I loaded it up into my fabulous new casserole carrier and headed out to the potluck. I arrived at the shower to a room beautifully decorated to welcome a new precious baby boy into the world. Everything was just right. I hoped that my enchilada casserole would be too, knowing that its presentation has never let me down yet.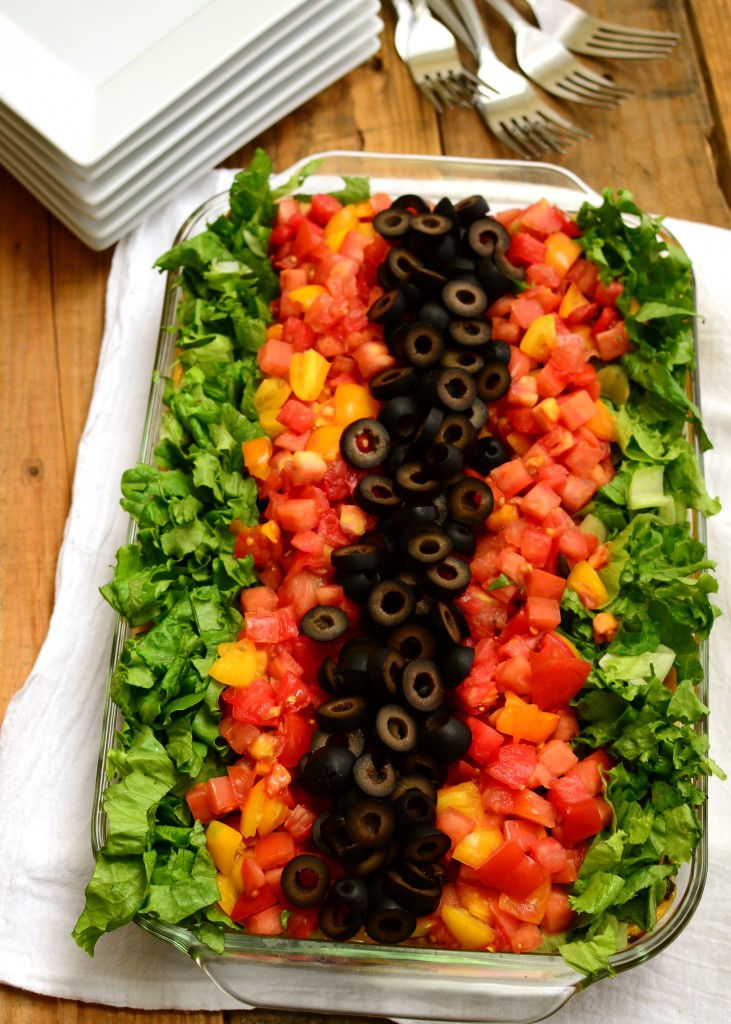 When I took it out of its carrier and set it out on the table, the compliments immediately started flowing in. "It's so beautiful!" was what I heard throughout most of the shower. I hoped they would still have just as positive of thoughts after tasting it.
And guess what? They loved it! Success!
They also all begged me to share the recipe so I promised to post it over the weekend.
So here it is, enchilada casserole that everyone will love.
What's your favorite dish that's always a hit at potlucks?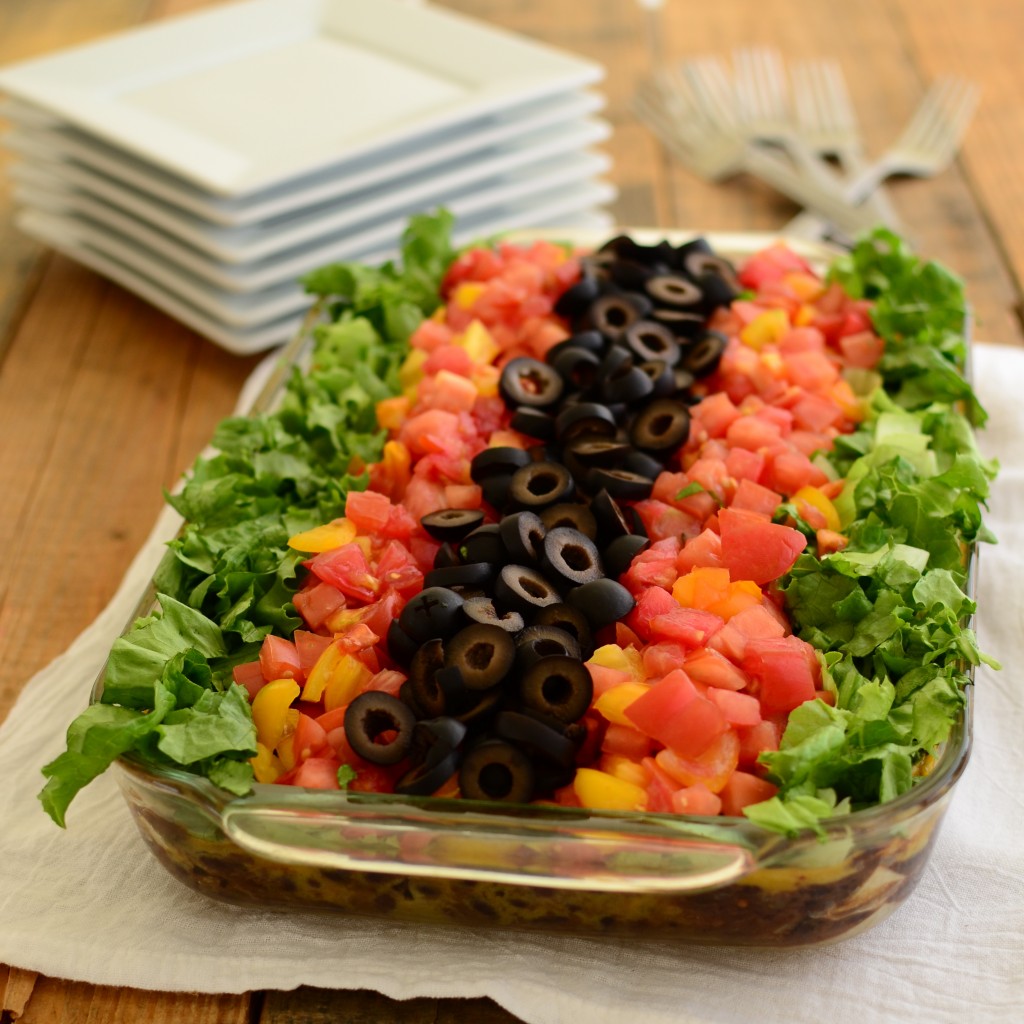 Enchilada Casserole
2013-08-31 21:20:10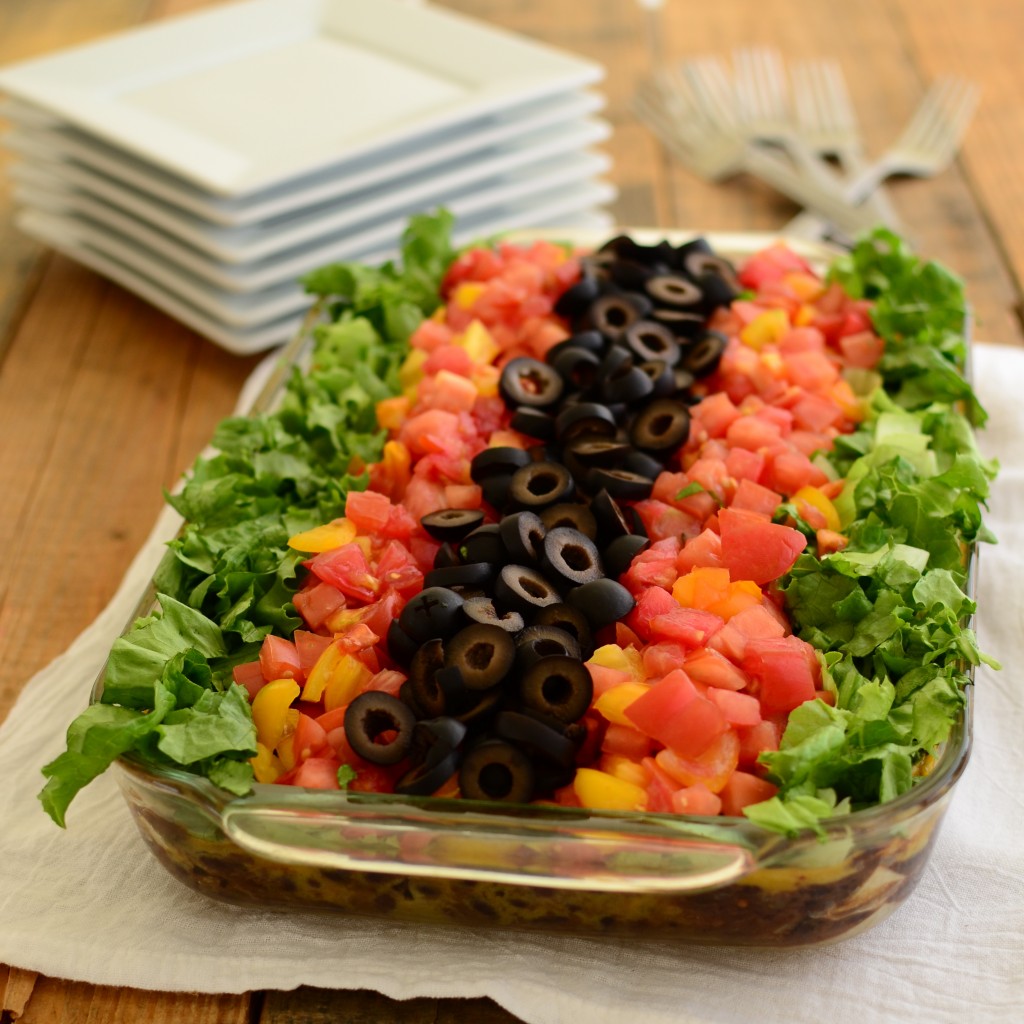 Ingredients
8 medium-sized soft tortillas
1 can (~14 oz.) chili-style tomatoes
2 can (~18 oz.) black beans
1 C. dried TVP ground beef style (if you don't have this, see notes)*
1 1/2 C. water
1/2 medium-sized onion
2 tsp. oil
1 Tbsp. soy sauce
1 Tbsp. chili powder
1/2 tsp. garlic powder
1 tsp. onion powder
dash of cayenne (opt.)
dash of cumin (opt.)
2 tsp. McKay's vegan beef-style seasoning (opt.)
salt to taste
1 C. vegan cheese (see notes)**
2 C. lettuce, diced
2 C. tomatoes, diced
1 C. olives, diced
Instructions
If you don't already have some, make your vegan cheese.
For the bean filling
Dice onion small and place in a frying pan on medium-high heat with olive oil. Begin to sautee. When soft and lightly browned, add in dry TVP. Stir together and immediately add water. Add in the seasonings including soy sauce, chili powder, garlic powder, onion powder, cayenne, cumin, beef-style seasoning, and salt to taste. Adjust seasonings to your preference. Allow all to sautee together on medium-high heat for 3-5 minutes. Add in both cans of beans to frying pan. Add in can of chili tomatoes. Allow to fry for about another 3 minutes stirring frequently. Turn off burner and set pan aside.
How to layer the casserole
Cut your eight tortillas into quarters. I use kitchen scissors to expedite this process.
Arrange tortilla pieces in a single layer on the bottom of a 9x13 baking dish.
Pour half of the bean mixture on next.
Arrange another single layer of tortilla pieces for next layer.
Pour in the rest of the bean mixture.
Put down another layer of tortilla pieces.
Pour a layer of cheese sauce and spread evenly over the top.
Bake for 30 minutes at 350 degrees.
Arrange lettuce, tomatoes, and olives for garnish as shown in the photos.
Notes
*Instead of TVP, you can use griller crumbles or canned vege-burger, just leave out the additional water. TVP is my least expensive option.
Adapted from My friend, Julianne
Adapted from My friend, Julianne
Veggie On A Penny http://www.veggieonapenny.com/