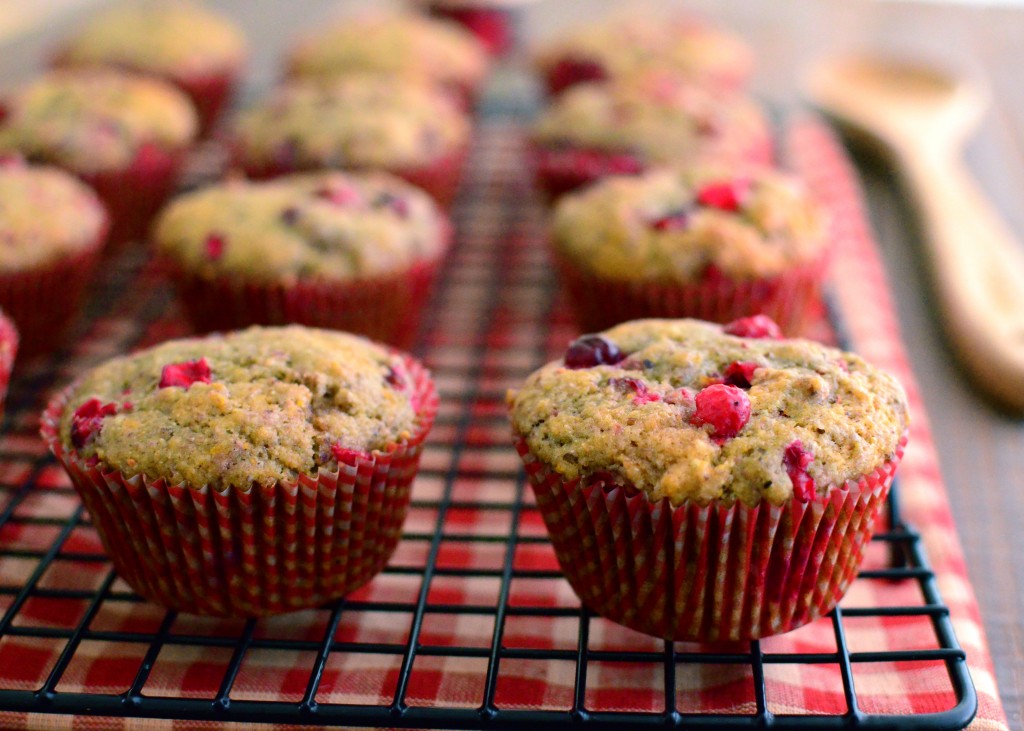 My best friend from nursing school, Allana, is moving to my town next month. I can hardly wait. We have so many great memories from college together. Like the time she sat perched upon a rock watching as I got sucked right to the edge of a waterfall. Fortunately another friend pulled me out of it just as I started going over. And like the half-marathon I signed up to run with her…and then ran alone. But those aren't the great memories that I'm going to talk about today. Today I want to tell you about the time she broke my thumb.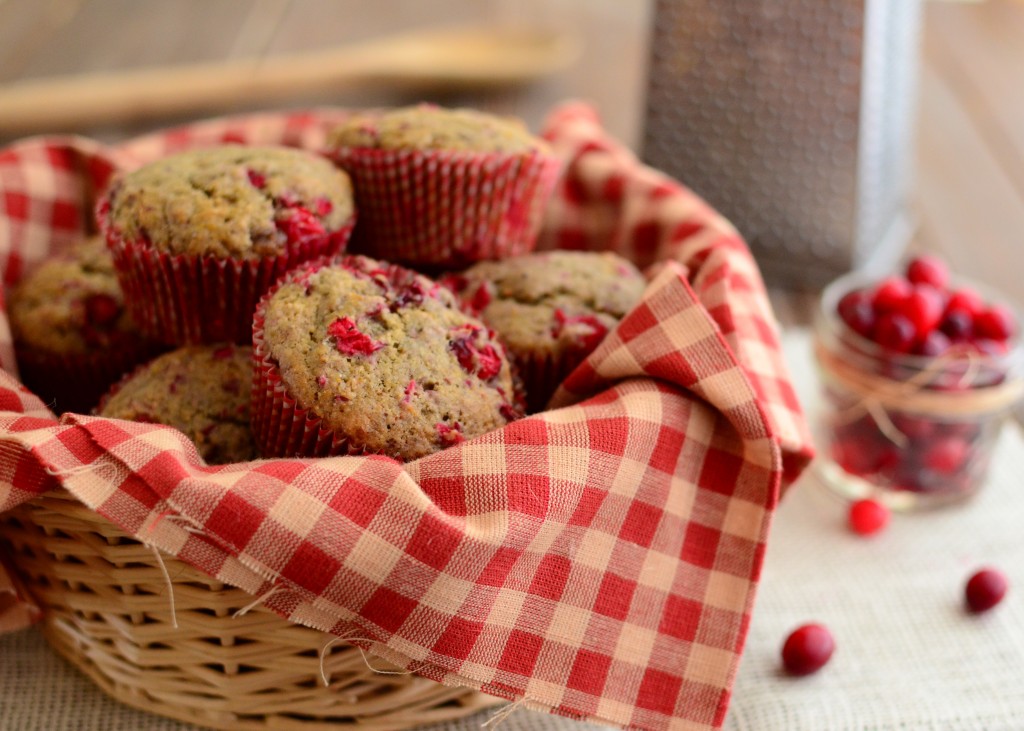 You have to understand that most people think of Allana as some sort of celestial angel. You know, the saintly type who would never get angry, be violent, or injure their best friend. But once you really get to know Allana, you get to know her for who she really is. One day we were baking together in her apartment. When I bake, I take a scoop of this and a pinch of that and maybe a dash of something else then whip it all up and hope for the best. Allana likes to shake things down, sift them out, then scrape the top of with a knife. So here we were getting into this "discussion" about which was a better way to bake.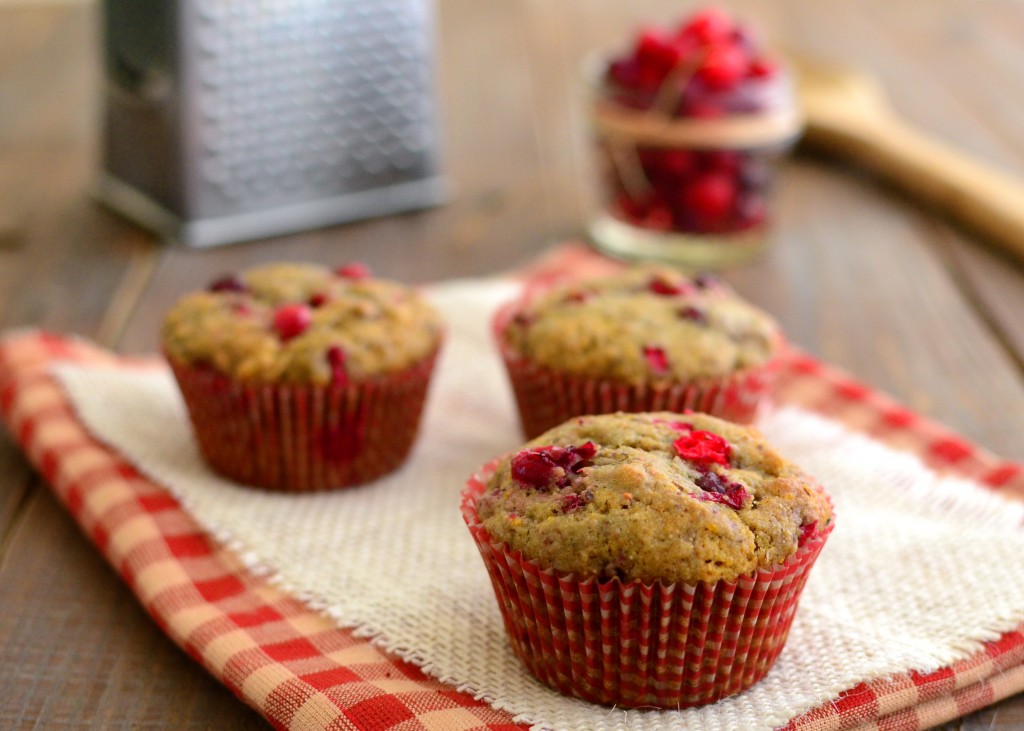 The tension began to build. I may have said something like, "You just aren't confident in your abilities as a baker," or some other equally offensive sarcastic remark. I really don't remember. Either way, as I was stooping down to get out a mixing bowl, she came up behind me and wound up to kick me. Out of self defense, I put my hand behind myself to block her. Her foot made contact… with my thumb. That's when we both heard an audible "pop." Uh-oh. My poor thumb swelled up to the size of the loaf of bread we were making within seconds. I just knew it had to be broken. Somehow being two nursing students, though, we talked ourselves out of that possibility and decided that since I could still move it and it was still only red, not too purple yet, we should just wait it out.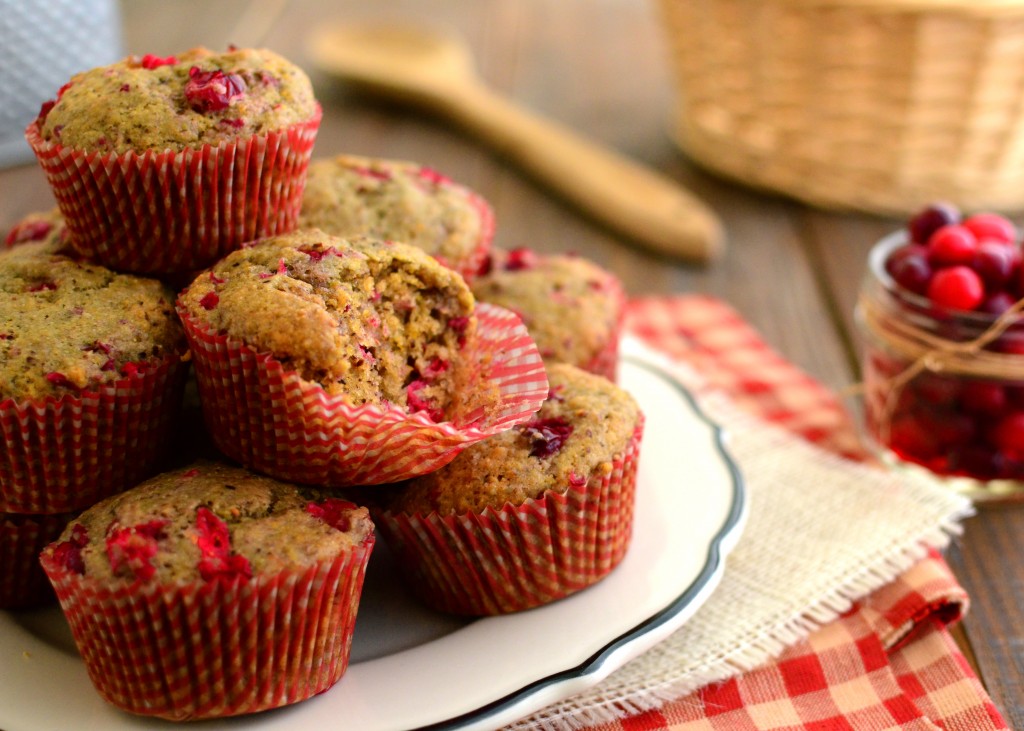 Well two weeks later it was still in pretty bad pain and swollen so I decided to go get an x-ray. The nurse came out to check me in: "What brings you in today?" Me: "I want to see if my thumb is broken." Nurse: "What happened to it?" Me: "Well, I don't know how else to say this. My best friend kicked it while we were baking bread." Fortunately the "friend abuse" hotline was never called.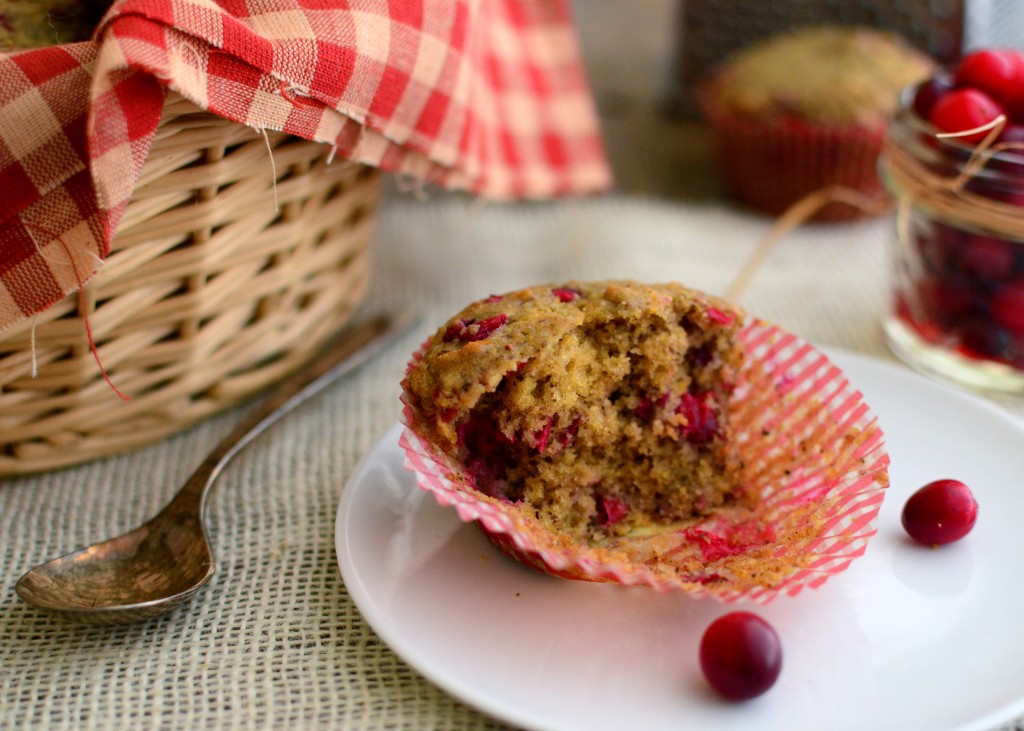 Big dramatic story to say that my thumb was sprained, not broken. Then just last week Allana flew out to my town for a quick visit. She asked if she could come to my house to whip up some little muffins for her friend's birthday. I told her that I was quite nervous, considering how poorly it had gone last time we baked together. We both laughed at the memory. Then she whipped up some of these tasty little treats, and I forgave her for all the wrongs she had done. Now you can thank her for these yummy muffins I am sharing with you today.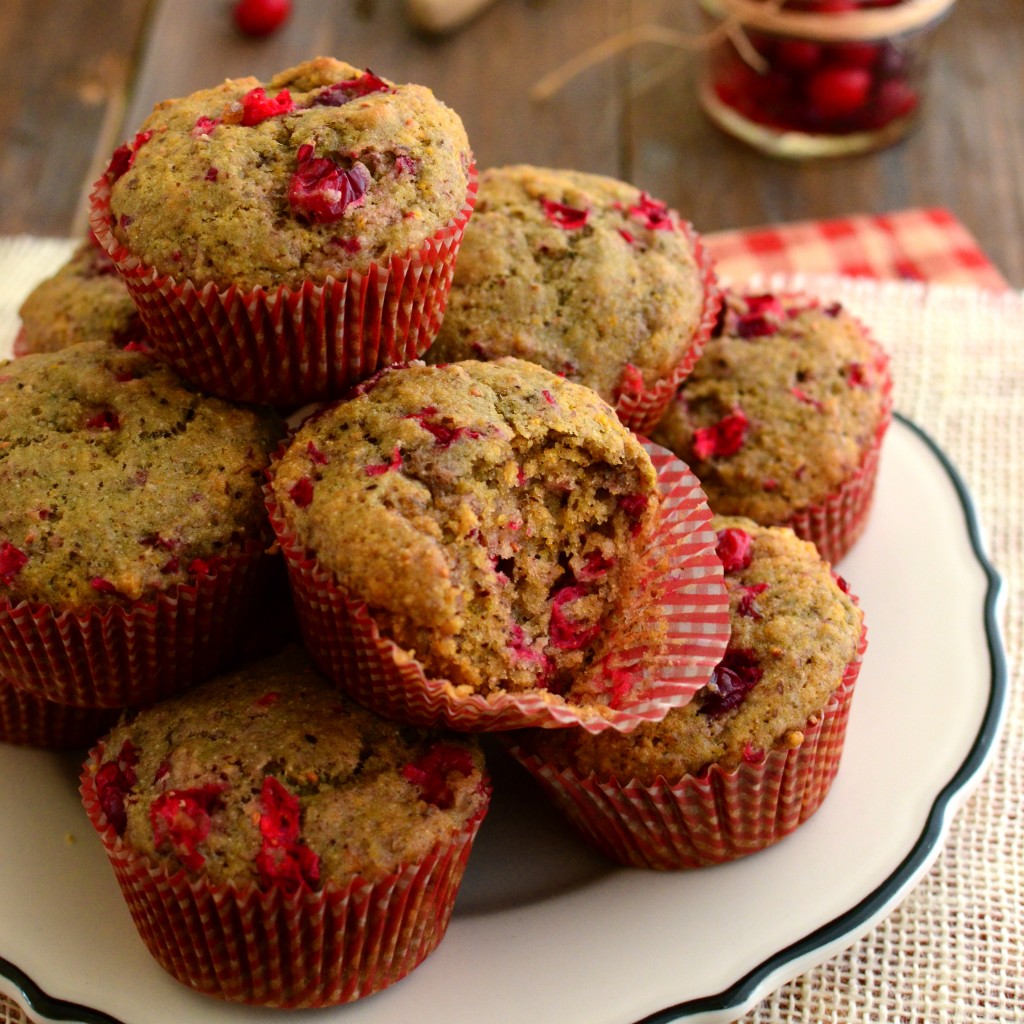 Cranberry Orange Nut Muffins
2013-12-19 12:52:59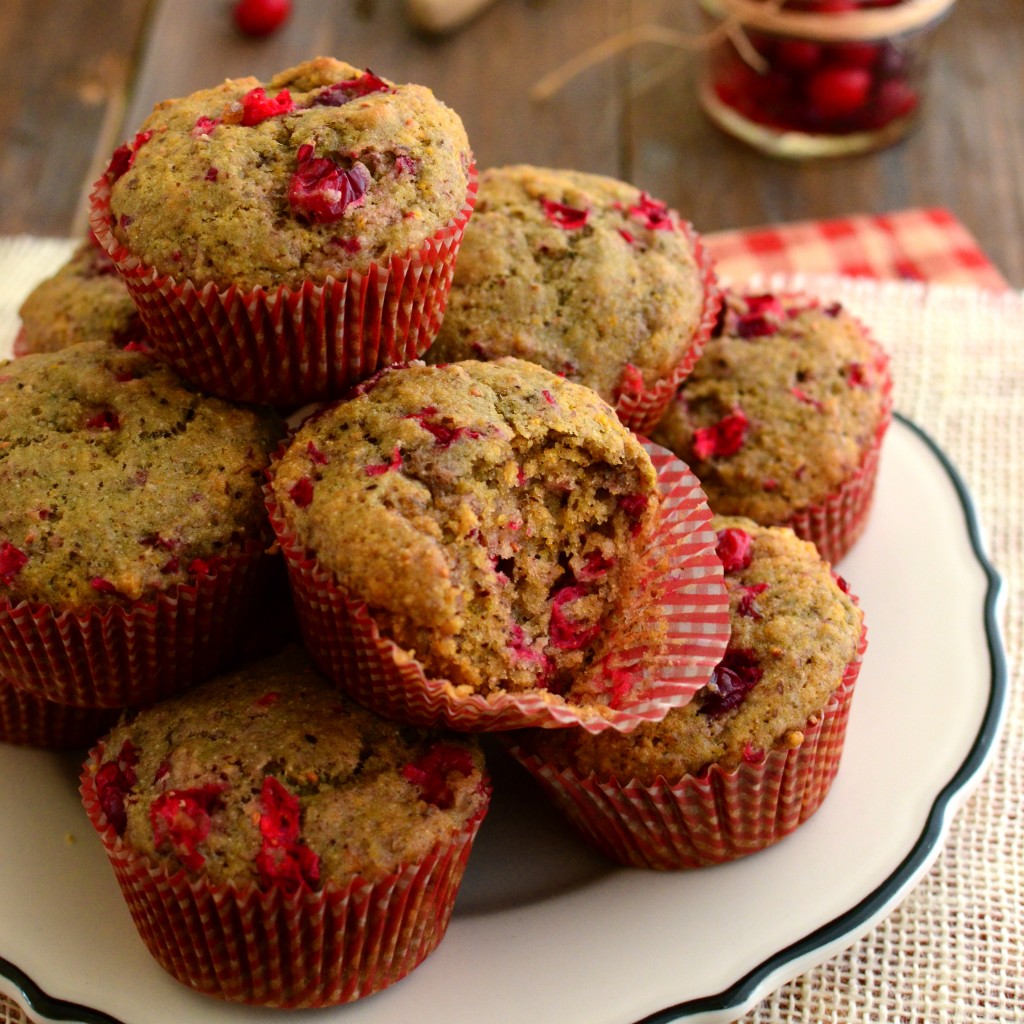 Ingredients
¾ C. white flour
1 C. white whole wheat flour (or whole wheat flour)
½ C. brown sugar
½ tsp. baking powder
1 tsp. baking soda
½ tsp. salt
½ C. orange juice
¼ C. soymilk
½ C. canola oil
½ C. pecan meal*
2 tsp. vanilla extract
1 ½ C. cranberries, coarsely chopped
zest from 2 oranges (opt.)
Instructions
In a medium-sized mixing bowl, mix together the white flour, white whole wheat flour, brown sugar, baking powder, baking soda, and salt. In a small bowl, combine together the orange juice and soymilk. Let that mixture sit for 15 minutes to allow the soymilk to curdle. Mix the canola oil, soymilk, and orange juice into the dry ingredients. Mix the pecan meal, vanilla extract, coarsely chopped cranberries, and orange zest into the batter. Preheat oven to 350 degrees. Place muffin wrappers into a muffin tin. Carefully spoon the batter into the muffin wrappers. Bake muffins at 350 for 20 minutes, or until a toothpick inserted into the middle comes out clean.
Notes
Using pecan meal that had pecan skins caused my muffins to turn out a bit darker. Use almond meal without the skins or omit this step completely for a lighter-colored muffin.
Veggie On A Penny http://www.veggieonapenny.com/