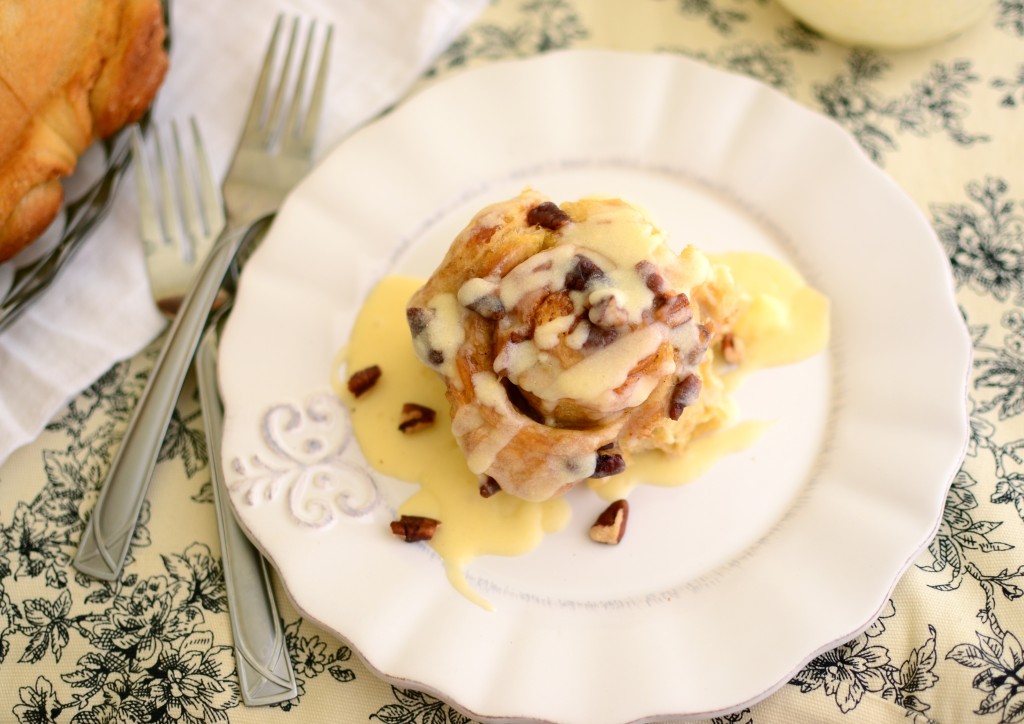 These cinnamon rolls remind me of summer camp. First of all, because we always had cinnamon rolls on Sabbath mornings at camp. But secondly, they remind me of my campers. Let me explain.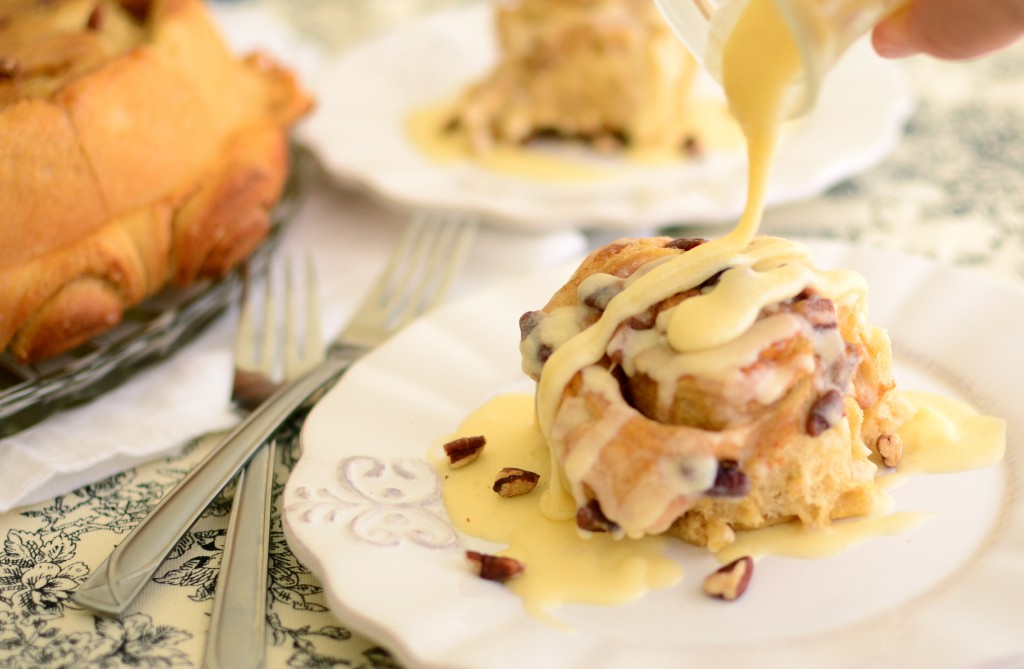 If you've ever been a counselor, or a teacher, or ever had a whole lot of kids you were in charge of, you will totally get this. I had ten girls every week that I needed to keep track of, and I only had just one week to learn all of their names and faces. Instead of trying to remember all of that, I just numbered them off. Like this, "7, 8, 9… where's 10?" "Oh, there goes number 8. Now number 7 is in the bathroom. Wait, number 3, get back here!"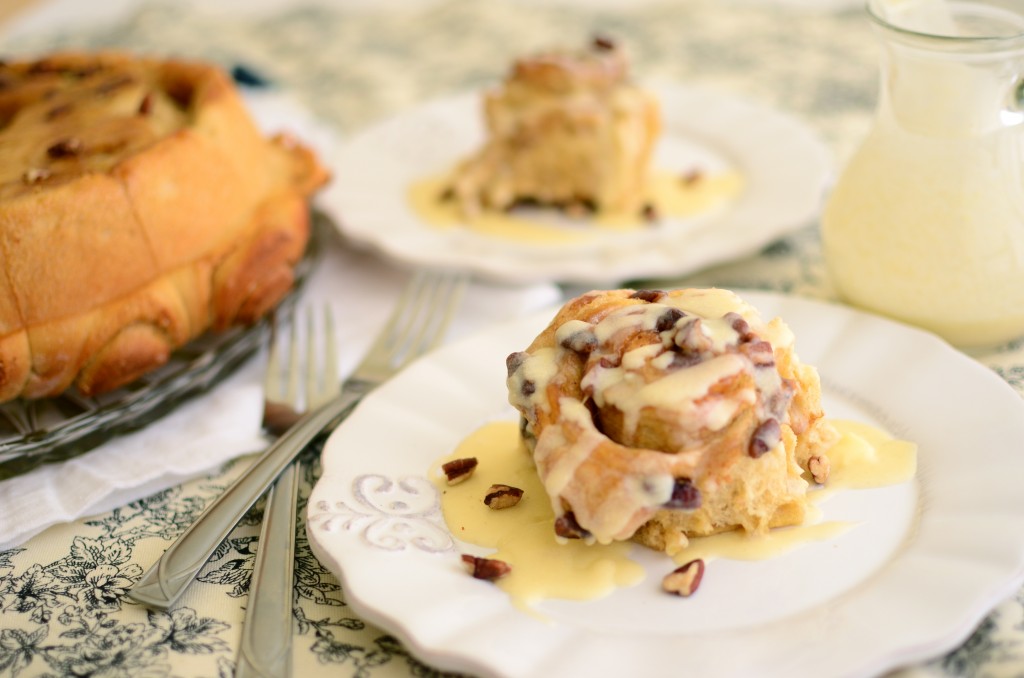 Which is why they're like these cinnamon rolls. Hard to keep track of. Vanishing. Boom. Gone. Started out with a whole pan, then I blinked and boom! Two down. Shot some pictures, cleared off the table, started to put them away, tried to add them up, three more gone!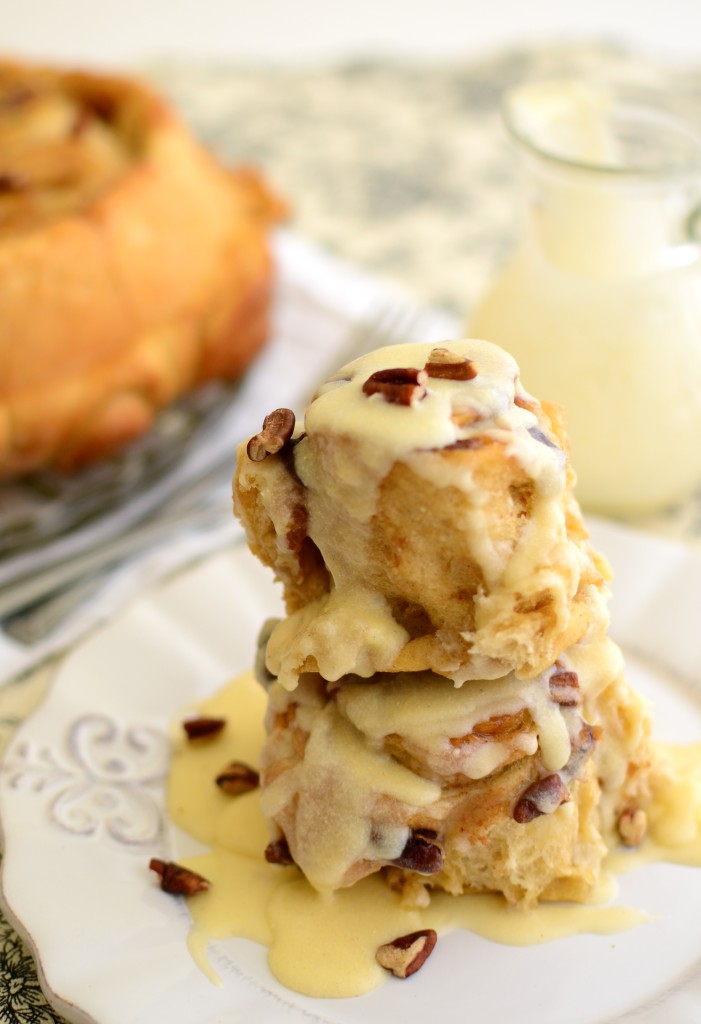 Since this recipe makes a pretty big batch, Ryan and I like to sit down and eat them all at once. I mean, we like to wrap them individually in tinfoil and keep them in the freezer, then toast them in the toaster oven when we're ready to enjoy. Or if you have a big family or lots of friends, just sit down and eat these dreamy things all at once!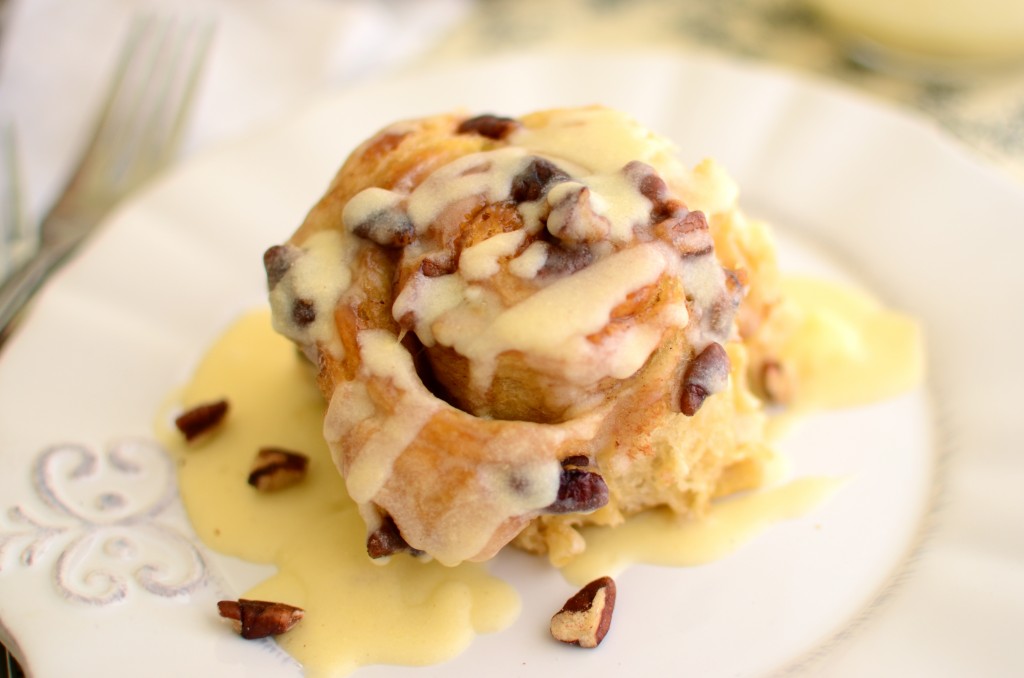 Lick the icing off your fingers…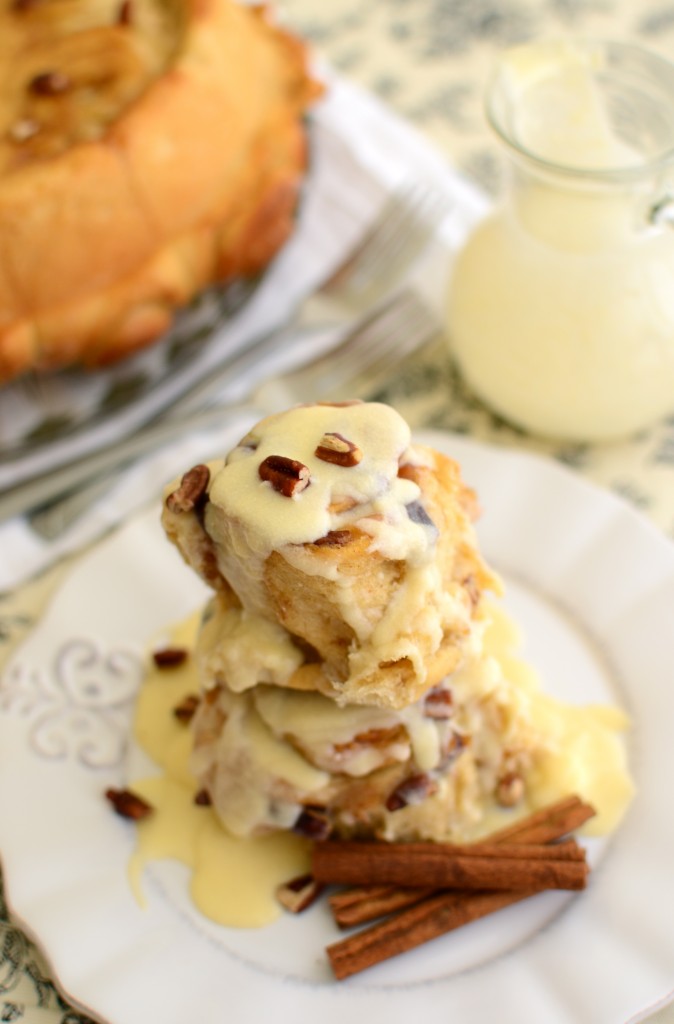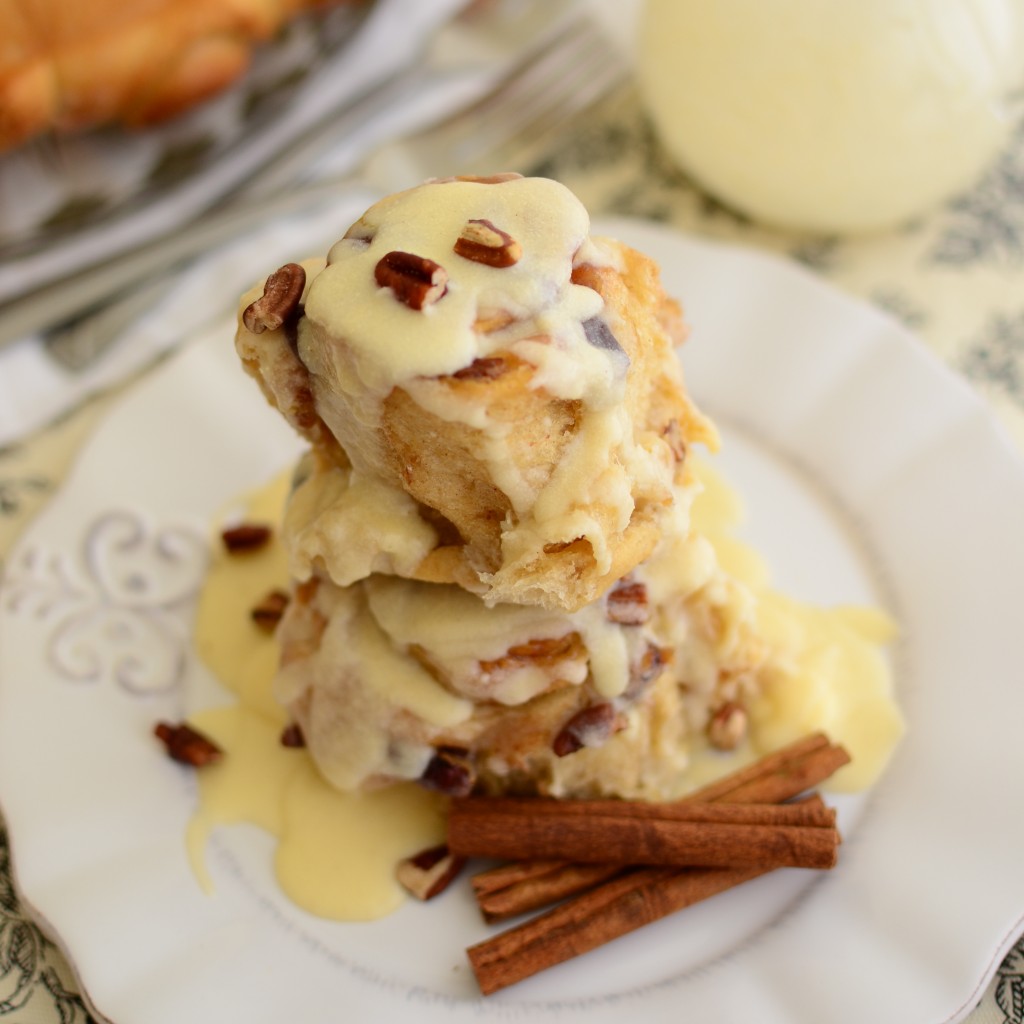 Cinnamon Rolls
2013-08-09 19:51:25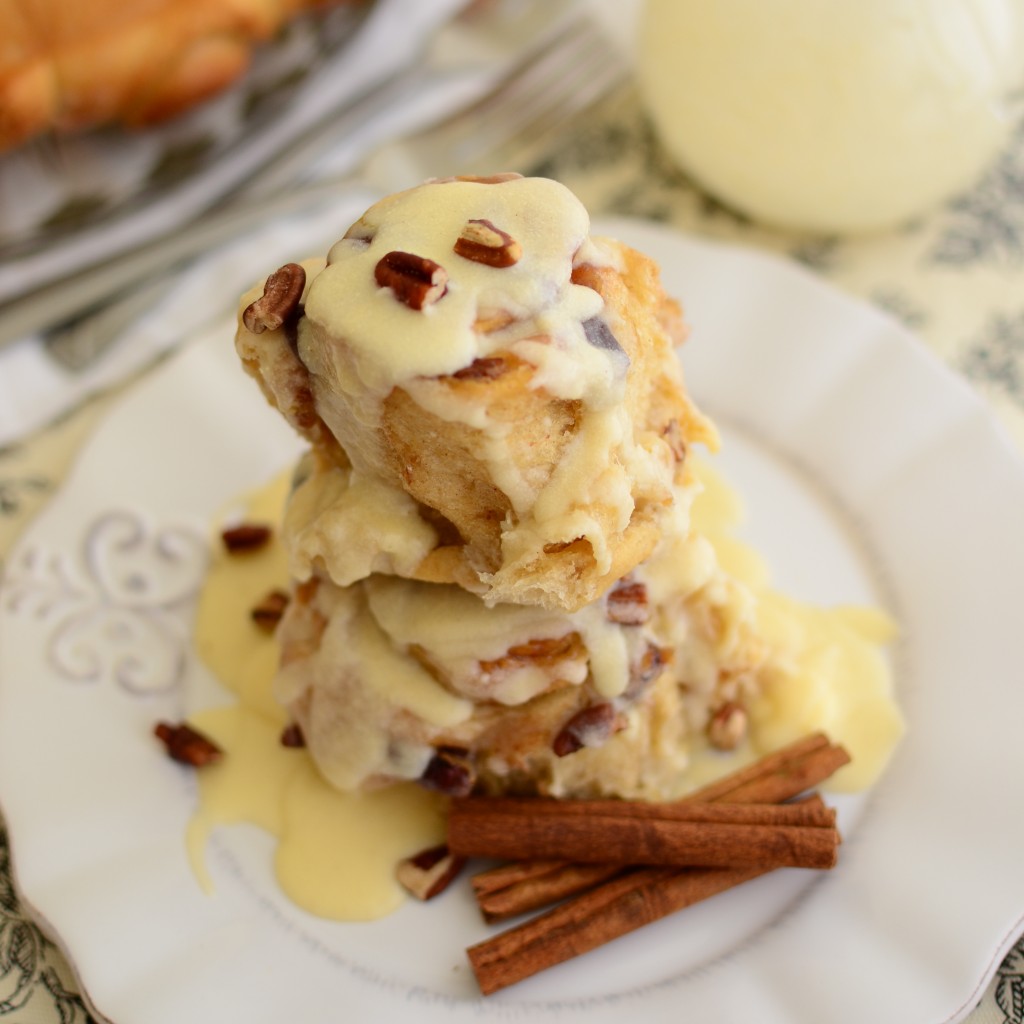 For the dough
1 C. lukewarm water
1 tsp. salt
¼ C. canola oil
¼ C. honey
1 Tbsp. yeast
1 ½ C. white flour
1 ¼ C. whole wheat flour
For the filling
2 Tbsp. vegan margarine
1 tsp. cinnamon
¼ C. brown sugar
For the bottom of the pan
1 Tbsp. vegan margarine
¼ C. coarsely chopped pecans
¼ C. pure maple syrup
Optional Apple Topping
2 C. apples, peeled, cored, and thinly sliced
½ C. apple juice concentrate
1 tsp. cinnamon
½ Tbsp. cornstarch
½ Tbsp. water
Instructions
To make the dough, mix together the water, salt, honey, oil, and white flour in a medium-sized bowl. Sprinkle the yeast on top and mix together until well-combined. Add in the whole wheat flour. Mix together. Note, the dough will be a bit wet and sticky. Spray the counter with vegetable oil or sprinkle a thin layer of white flour. Turn the dough out onto the counter. Knead for 5-10 minutes. Place dough back in bowl. Cover and let rise for 30-45 minutes, or until doubled in size.
Turn the dough back out onto a floured surface. Roll it out with a rolling pin into a very thin sheet approximately 18"x12". (You really can't make it too thin!)
Melt the vegan margarine in a small glass dish in the microwave. Use a spatula to spread it evenly over the surface of the dough. Sprinkle the brown sugar and cinnamon evenly onto the dough. Roll up the dough to make a "log".
To prepare your pan, use a square or circle 9-inch glass or metal baking dish. Coat the bottom with vegan margarine. Sprinkle the pecans evenly across the bottom. (Unless your name is Ryan—then skip this step!) Drizzle the maple syrup across the bottom of the pan.
Optional: To prepare the apple filling, peel, core, and thinly slice the apples. Place them in a saucepan with the apple juice concentrate and cinnamon. Bring to a simmer. Mix together the water and cornstarch and slowly poor into pan. Continue to simmer on low until the mixture thickens (a few minutes). Pour the apple mixture into the bottom of the pan after the pecan toppings have been put in the pan.
Using a bread knife and a cutting board, slice your cinnamon roll "log" into 1-inch-thick rolls. Arrange the rolls in the pan.
Allow rolls to rise in a warm place for 1 hour, or until doubled in size.
Bake rolls at 350 degrees for about 25 minutes, or until golden-brown. Allow the rolls to cool for a few minutes, then turn them upside down onto a serving platter.
Notes
You can use white whole wheat flour if you have it. For my cinnamon rolls, I used 1 ¾ cups white whole wheat flour, and 1 cup white flour.
Shame on me, I didn't make a recipe for my icing. But it was something like this.
1 Tbsp. margarine melted
1 tsp. soymilk
1/2 cup powdered sugar (add till good consistency)
dash of cinnamon
Enjoy!
Veggie On A Penny http://www.veggieonapenny.com/