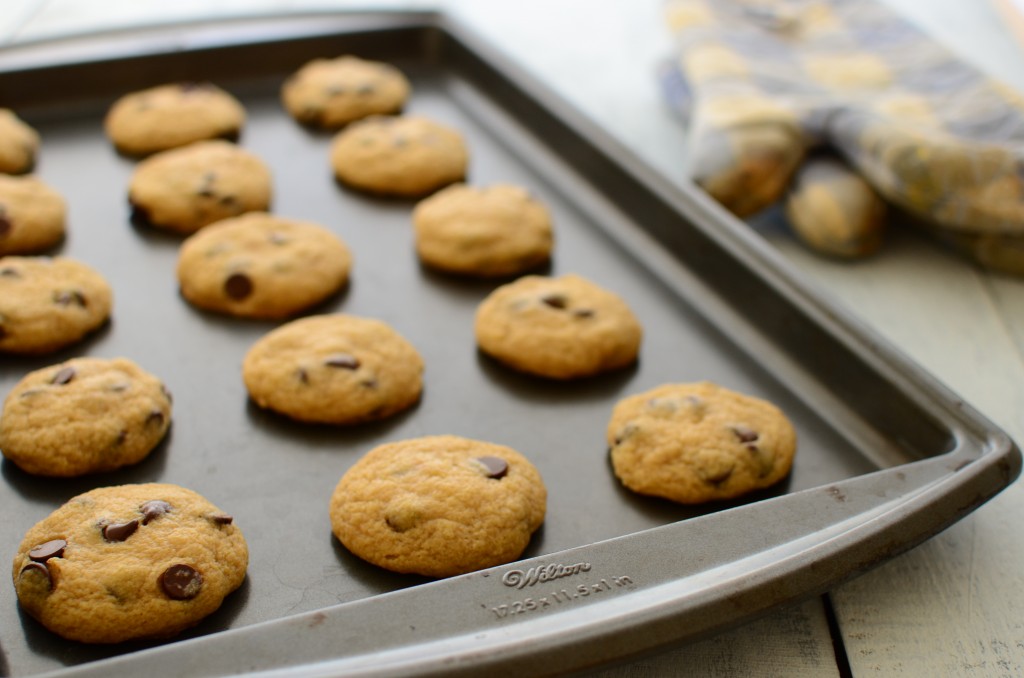 Confession time. There are a few things I just can't resist. Chocolate chip cookie dough just might be one of them. So I ate a spoonful. Or two. Oh, I lost count. Hey, it was healthy since there's no eggs in them, right?
Then I started shooting a pan full of freshly baked cookies. And then I was shooting a pan full of freshly baked cookies… minus one.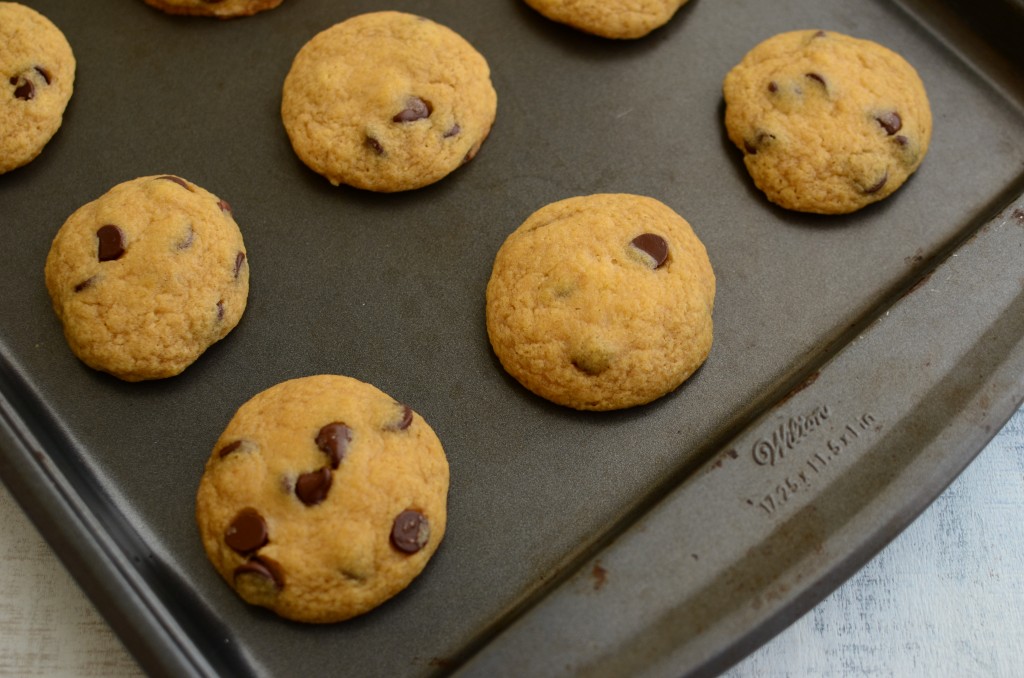 Just as I was finishing my shoot, who walks in the door but Ryan who simply can't resist the smell of freshly baked chocolate chip cookies. Warm and gooey, right out of the oven. I mean, who could resist that?
…And another one bites the dust.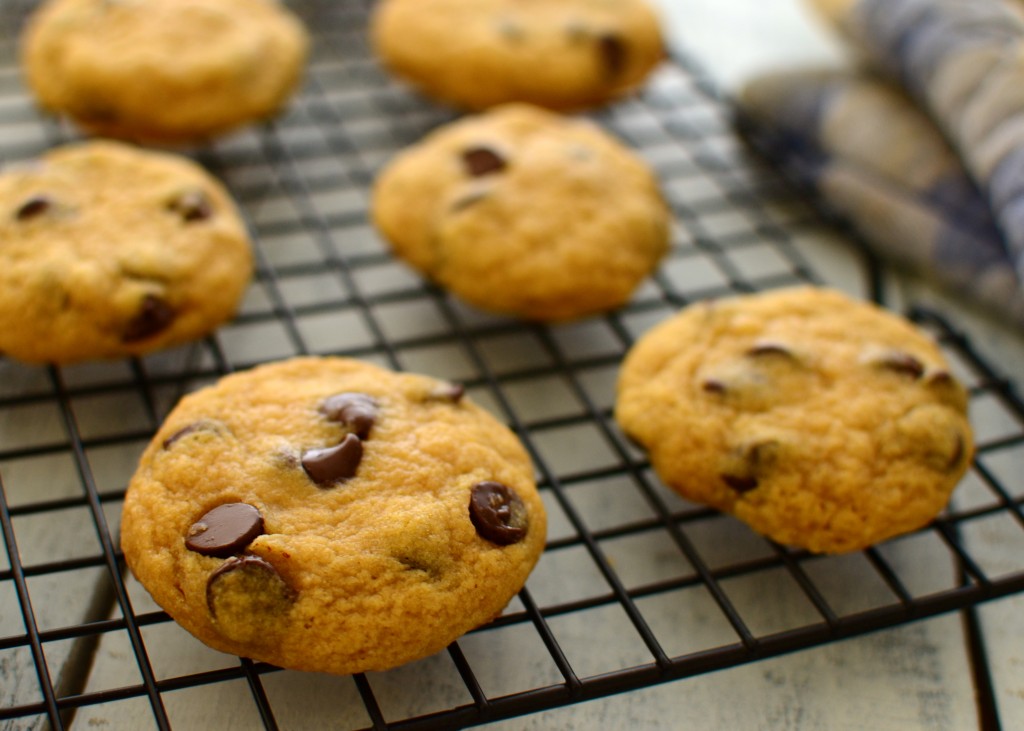 So I loaded these tasty little morsels up into my pretty little cookie jar. Well, what was left of them. They just looked so, so… cute in there! I simply just couldn't resist. Plus it was time for dinner, and I couldn't think of any better appetizer. Uh-oh. Buh-bye.
Confession is good for the soul. So are chocolate chip cookies.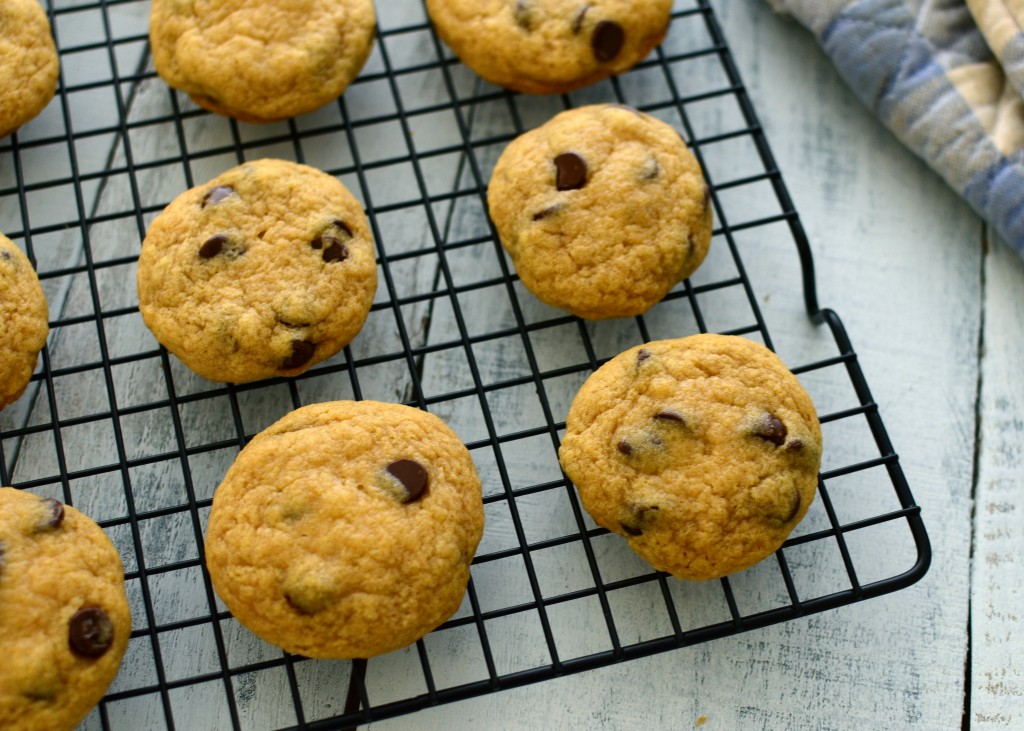 Chocolate chip cookies bring back good memories for me. Like digging into the giant Tupperware at Grandma's house that we could always count on being full of some type of cookie. More often than not, it was full of fresh-baked chocolate chip cookies just perfect for snitching. And it reminds me of the boxes that Mom and Grandma used to mail me at summer camp full of their homemade cookies. Oh the sweet taste of home. Those same cookies made us kids pretty popular with our friends at college, too.
Make these cookies for your family and I'm pretty sure your popularity with them will be picking up pretty quickly, too. And remember, chocolate chip cookies baked with love are good for the soul.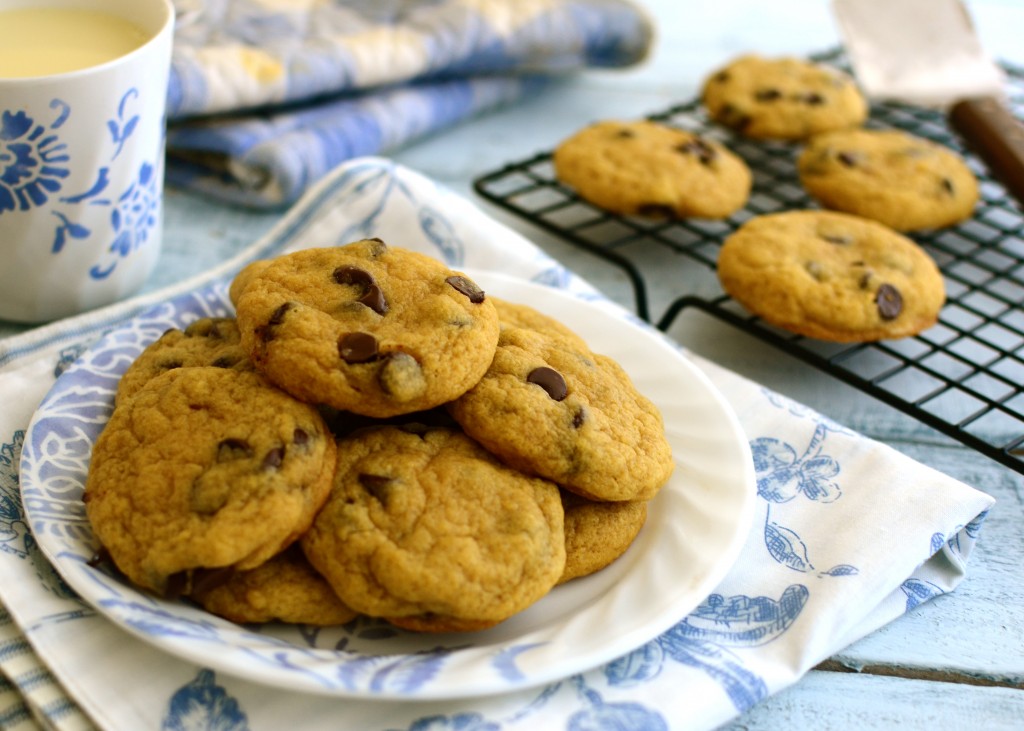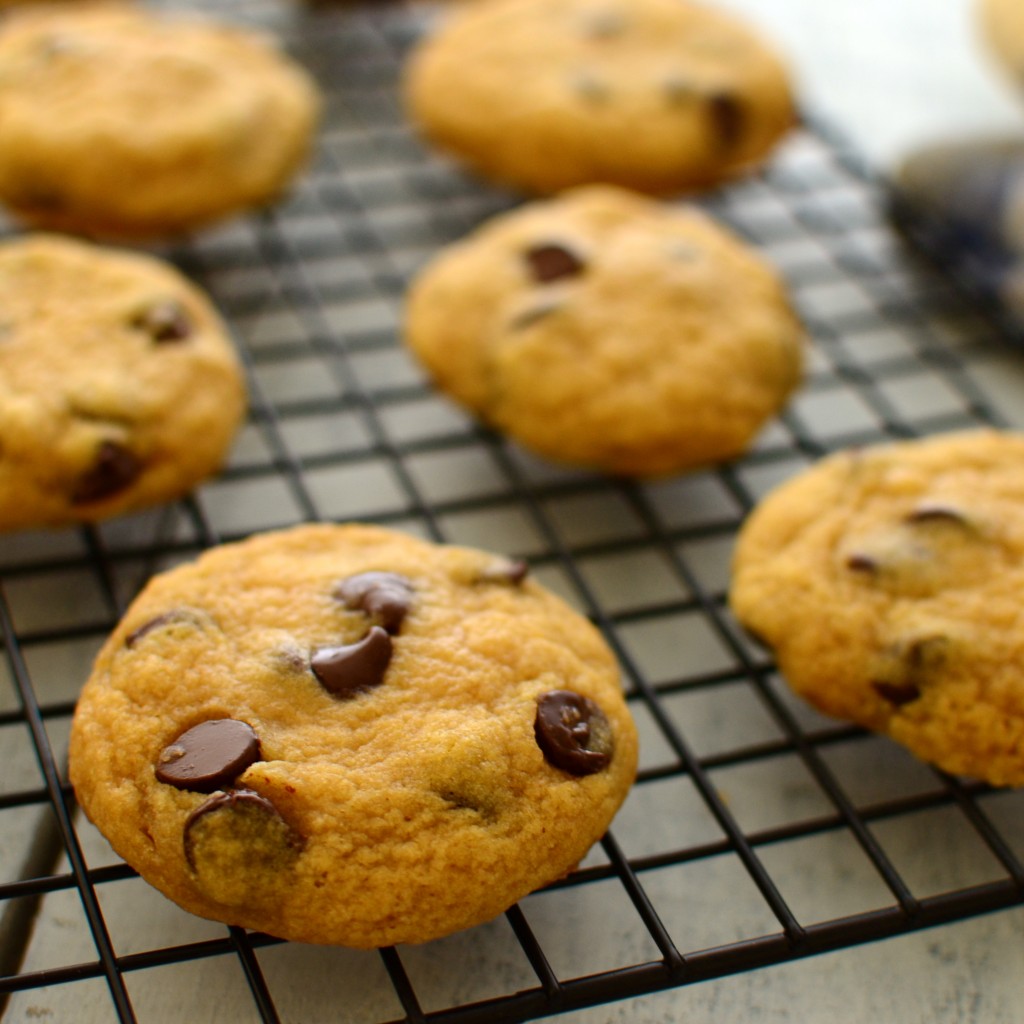 Chocolate Chip Cookies
2013-11-11 20:34:42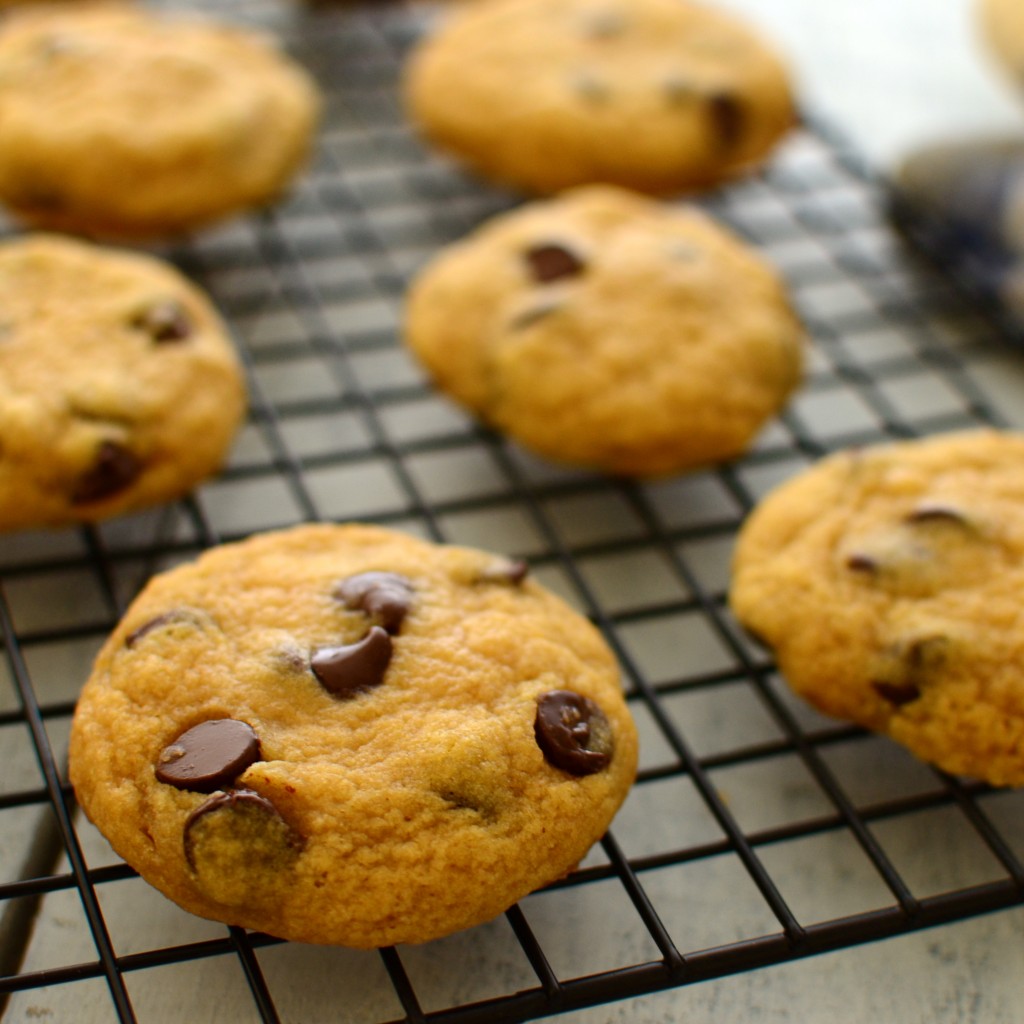 Dry ingredients
2 1/4 C. unbleached white flour
1 tsp. baking soda
1/2 tsp. salt
1/2 C. white sugar
1/2 C. brown sugar
Wet ingredients
1 C. vegan margarine, softened
1/4 C. soymilk or almond milk
1 tsp. vanilla
1 1/2 C. non-dairy chocolate chips* (Add in after dough is mixed)
Instructions
Mix together all of the dry ingredients.
Mix all of the wet ingredients into the dry ingredients.
Mix in the chocolate chips.
Preheat oven to 375.
Form the dough in golf-ball sized shape balls and place on a cookie sheet. Don't grease the cookie sheet!**
Use your hand to flatten them just barely.
I used two cookies sheets to make this recipe.
Bake at 375 for 8 minutes.
They make look a little soft still but that's fine. They will get more firm setting out. Just don't over-bake them. Even a minute or two and they begin to loose their to-die-for softness.
Notes
*Many large grocery stores carry ghirardelli semi-sweet chocolate chips which I was pleased to discover don't have any dairy. And they are delicious!
**I did this once. The cookies spread out as thin as ice in April. Trust me, they will not stick anyways.
Veggie On A Penny http://www.veggieonapenny.com/