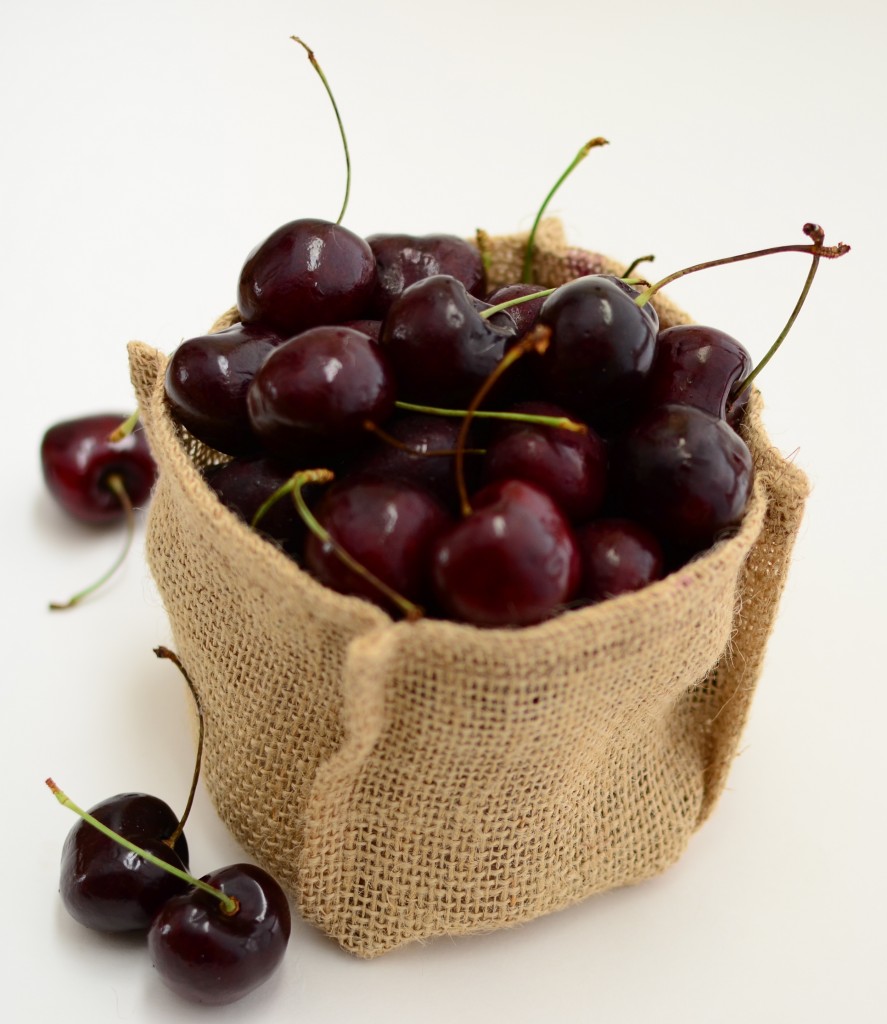 Over the weekend I flew up north to go to a good friend's wedding. It was beautiful and she was beautiful. But the best part was that I knew that the man she was marrying would treat her like a queen. They were wonderful together.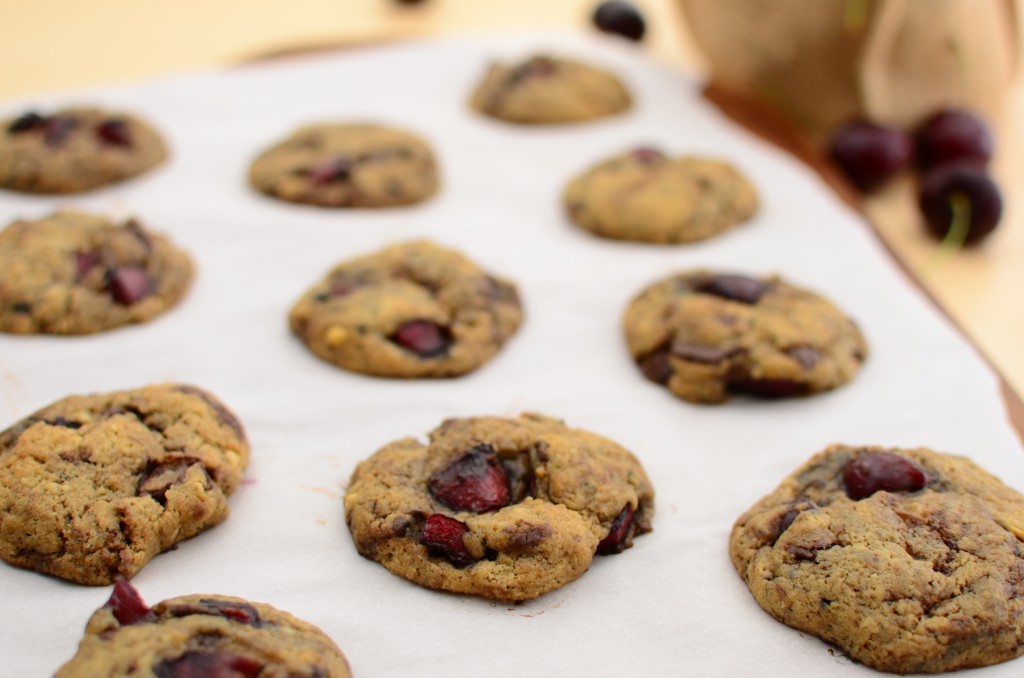 I also conveniently discovered that an old high school classmate and a childhood friend were getting married the same day just 15 minutes away. So I got to go to two weddings in one day! What a deal!
The only awkward thing was that the dress I had carelessly chosen to wear was nearly identical to the bridesmaids at both of the weddings! Epic fail.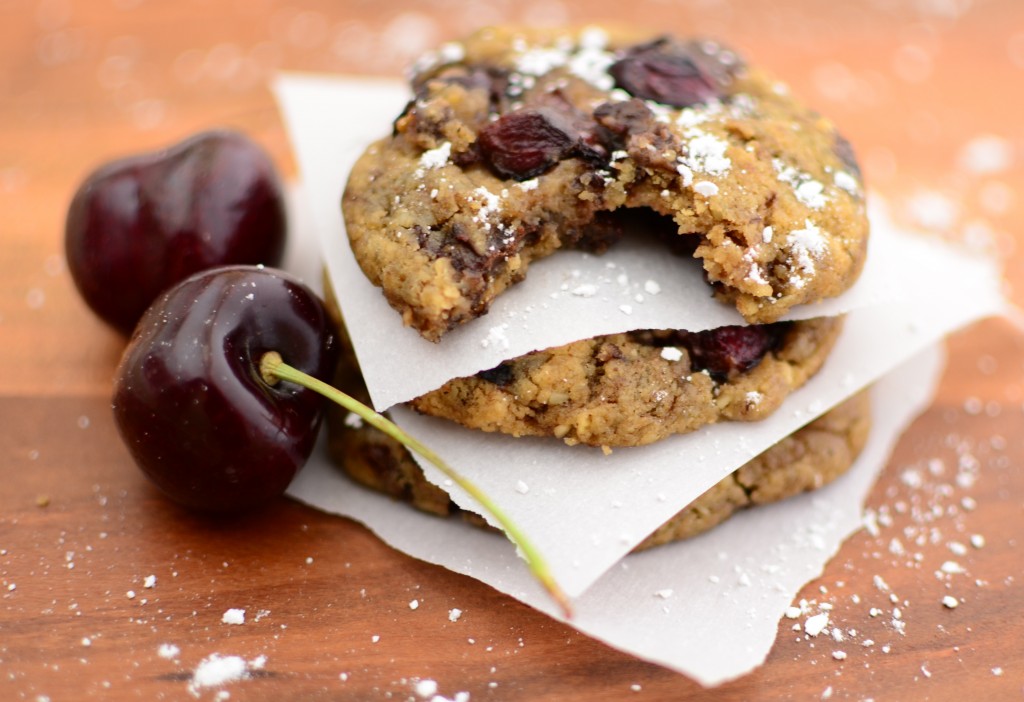 So how does this relate to cherry chocolate chunk cookies, you ask? You see, the cherries were the favors from the first wedding. The groom grew up in Canada on a fruit orchard and these cherries were from the valley where he was raised.
I couldn't resist all of the delightful possibilities of treats to make with these cherries! I was lured in by the heavenly combination that is cherries and chocolate. For a delicious dipping treat, checkout my cherry chocolate-chunk ice cream.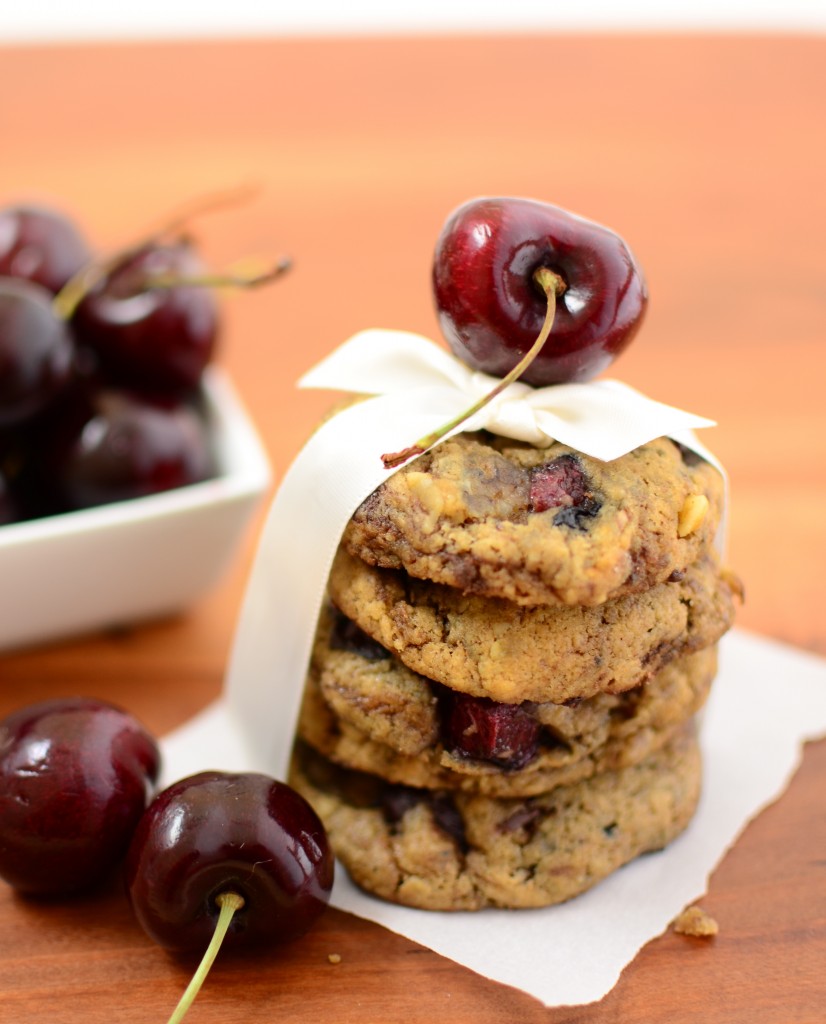 May these cherry chocolate cookies surprise, delight, and satisfy.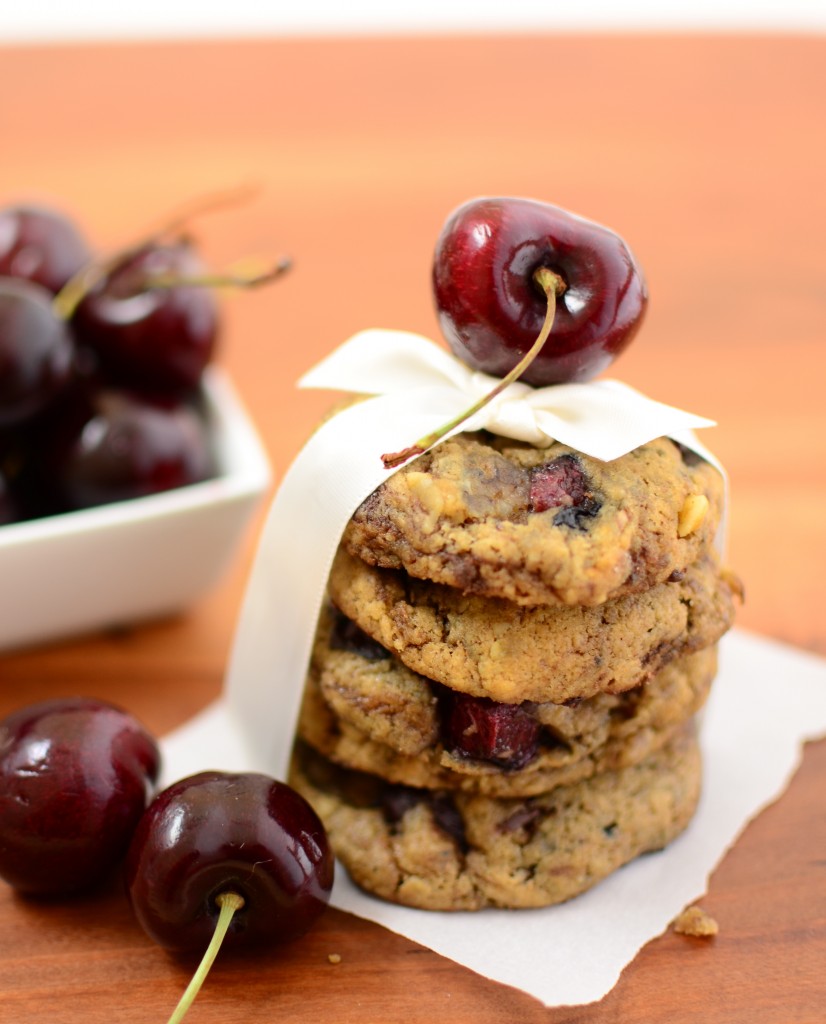 Cherry Chocolate-Chunk Cookies
2013-07-30 16:49:18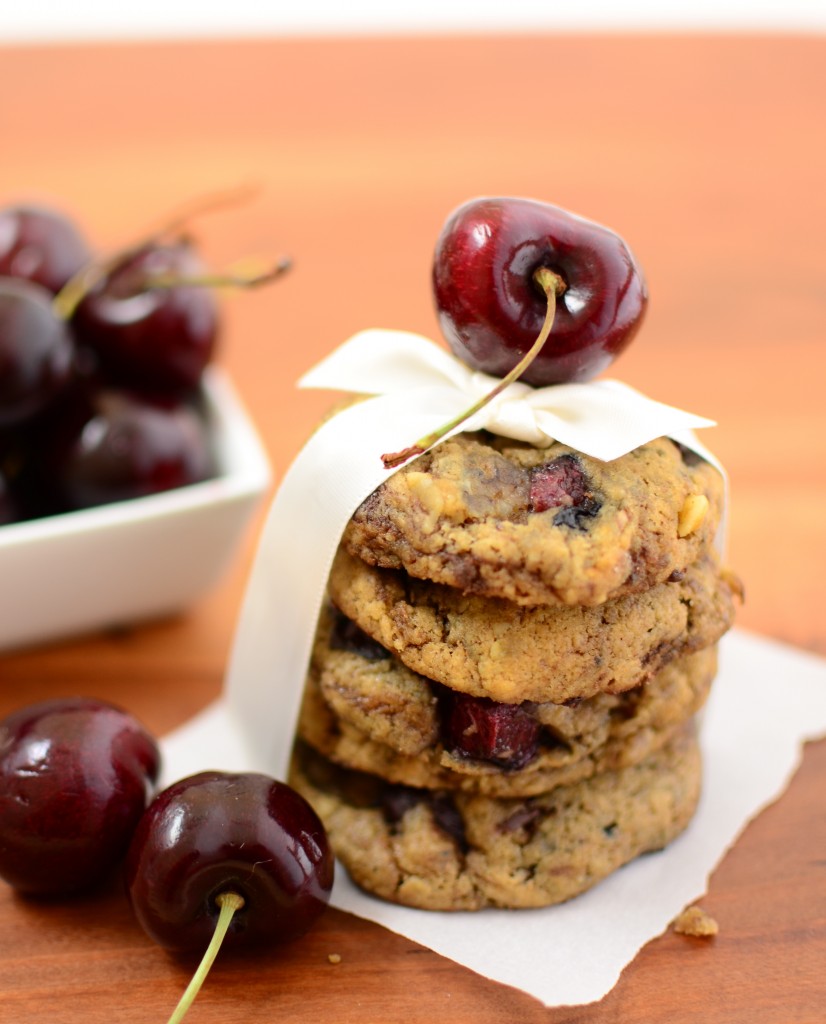 Serves 18
Ingredients
1 C. all-purpose flour*
1/3 C. packed dark brown sugar**
1 tsp. baking soda
1/2 tsp. salt
1/4 C. vegan margarine***
1/4 C. soymilk
1 Tbsp. vanilla
1/2 C. finely chopped walnuts
1/2 C. dairy-free chocolate chunks****
1 C. fresh cherries, pitted & chopped
Instructions
Preheat oven to 375 degrees
Mix the flour, sugar, baking soda, and salt together in a medium-sized mixing bowl.
Melt the vegan margarine in the microwave or on the stove top and pour into the dry mix.
Pour the soymilk and vanilla into the cookie mixture.
Cut cherries into 1/8th size or smaller.
Mix in chopped walnuts, chocolate chunks, and sliced cherries.
Form into golf ball sized balls and placed on baking sheet (do not grease the baking sheet—these cookies will flatten out like pancakes!)
Bake at 375 degrees for 10-12 minutes
Allow cookies to cool before serving to help them retain their shape.
Notes
*You can sub up to half of the all-purpose flour with a whole grain flour. I would recommend white whole wheat or whole wheat pastry flour.
**You can sub the dark brown sugar for any other sugar you may prefer such as turbinado sugar or Florida crystals.
***Up to half of the margarine can be substituted for applesauce for a lower-fat option.
****Ghirardelli semi-sweet chocolate chips are dairy-free and can be found in most large grocery stores. To make vegan chocolate chunks, melt 1/2 C. chocolate chips on the stove top. Spread thin onto a cookie sheet lined with parchment paper. Freeze. Break up layers into small chunks. Keep frozen until ready to use.
I used a nut chopper I have to finely chop the walnuts. Another option would be to blend the walnuts in a Vita-Mix along with the liquid ingredients.
Adapted from Taste of Home
Veggie On A Penny http://www.veggieonapenny.com/