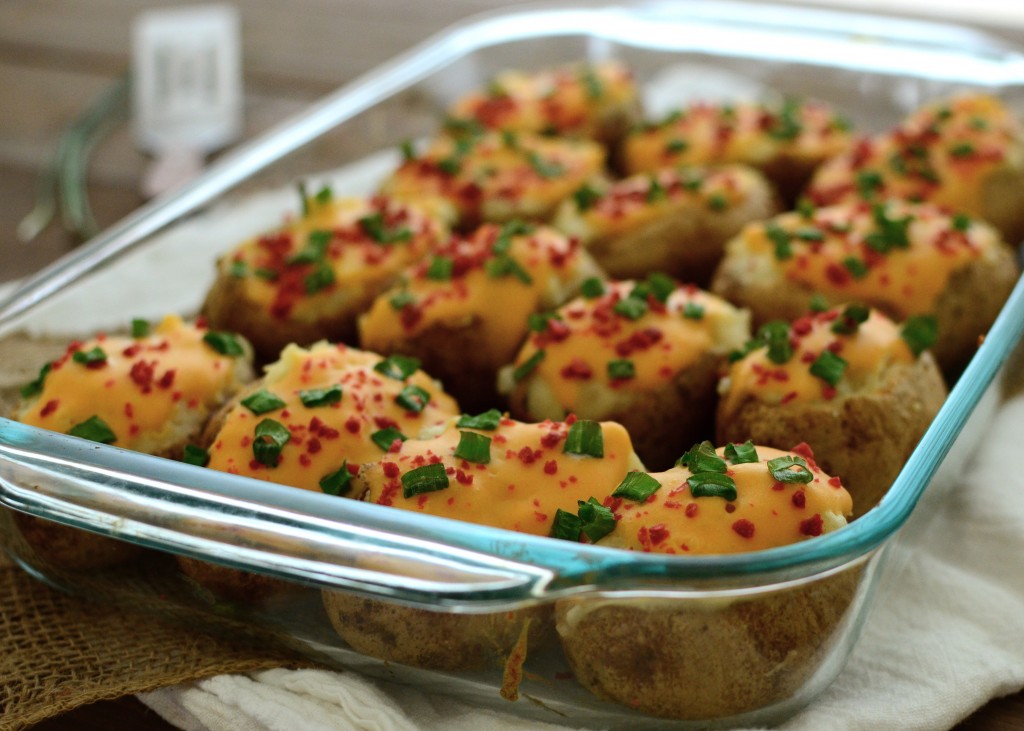 You know what's one of the best parts about being grown up? I could have twice baked potatoes every day if I wanted. And sometimes that really doesn't sound like a half-bad idea. I would've thought that was a terrific plan when I was a kid. Well, interspersed with giant spoonfuls of chocolate chip cookie dough, of course. Then as a teenager I thought that when I could choose what I ate I would just eat lettuce all of the time so that I would have a great figure. Ha… ha. That hasn't exactly happened.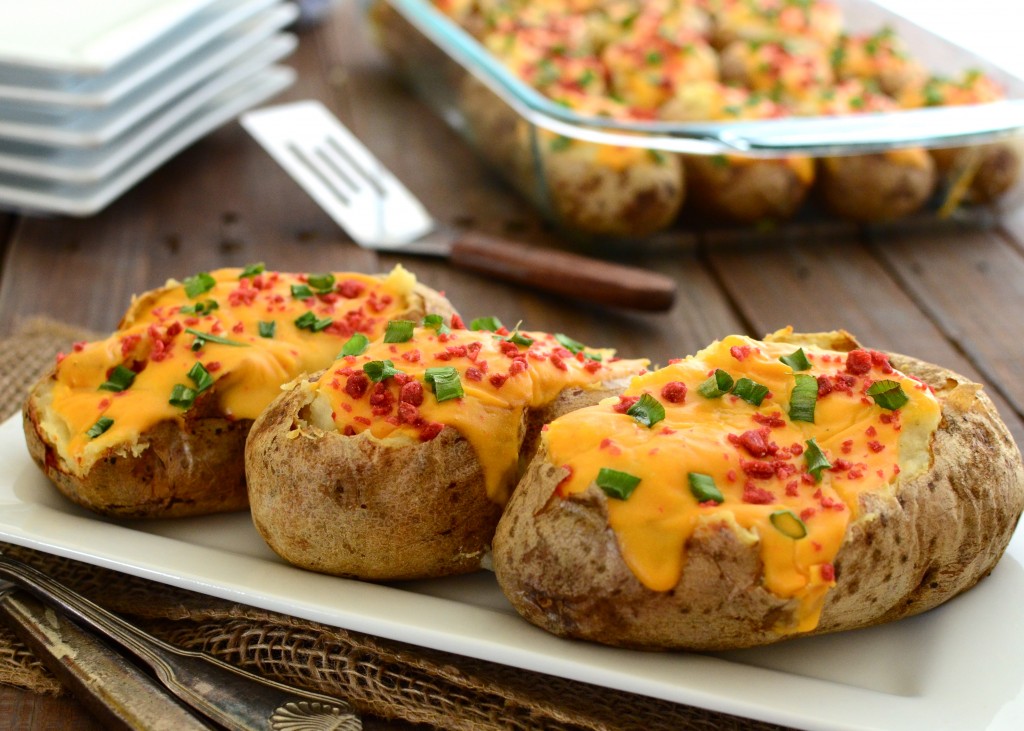 So what happens when my two childhood dreams collide? You get super comforting twice baked potatoes with all of their cheesy goodness and yet a healthy dose of cauliflower without tasting the difference. Talk about a bargain. Cauliflower in potatoes? Trust me, you will never taste it.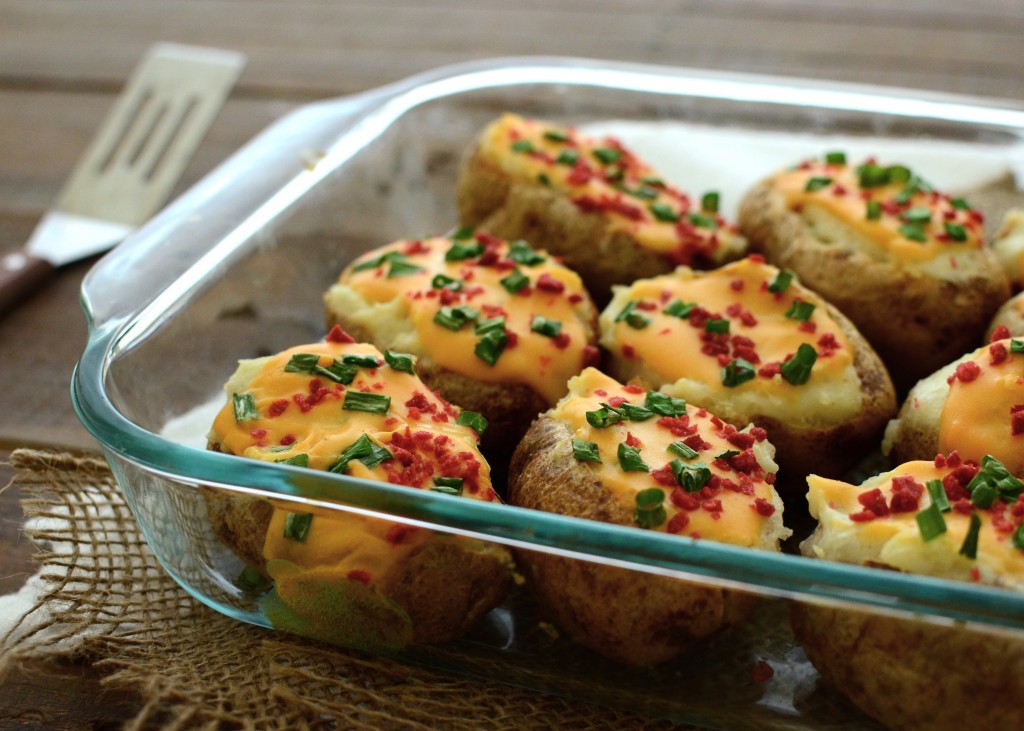 Speaking of cauliflower in strange places, it is becoming quite a trend out there right now and it's becoming pretty popular over here at Veggie on a Penny, too. Check out my cauliflower alfredo sauce. You would never believe how healthy it is.
I'm so excited to have a whole batch of these savory cauliflower twice baked potatoes in my refrigerator right now. I'm taking them to a potluck tomorrow where I am sure they will be a hit. Share this satisfying entrée with your family and friends for the holidays.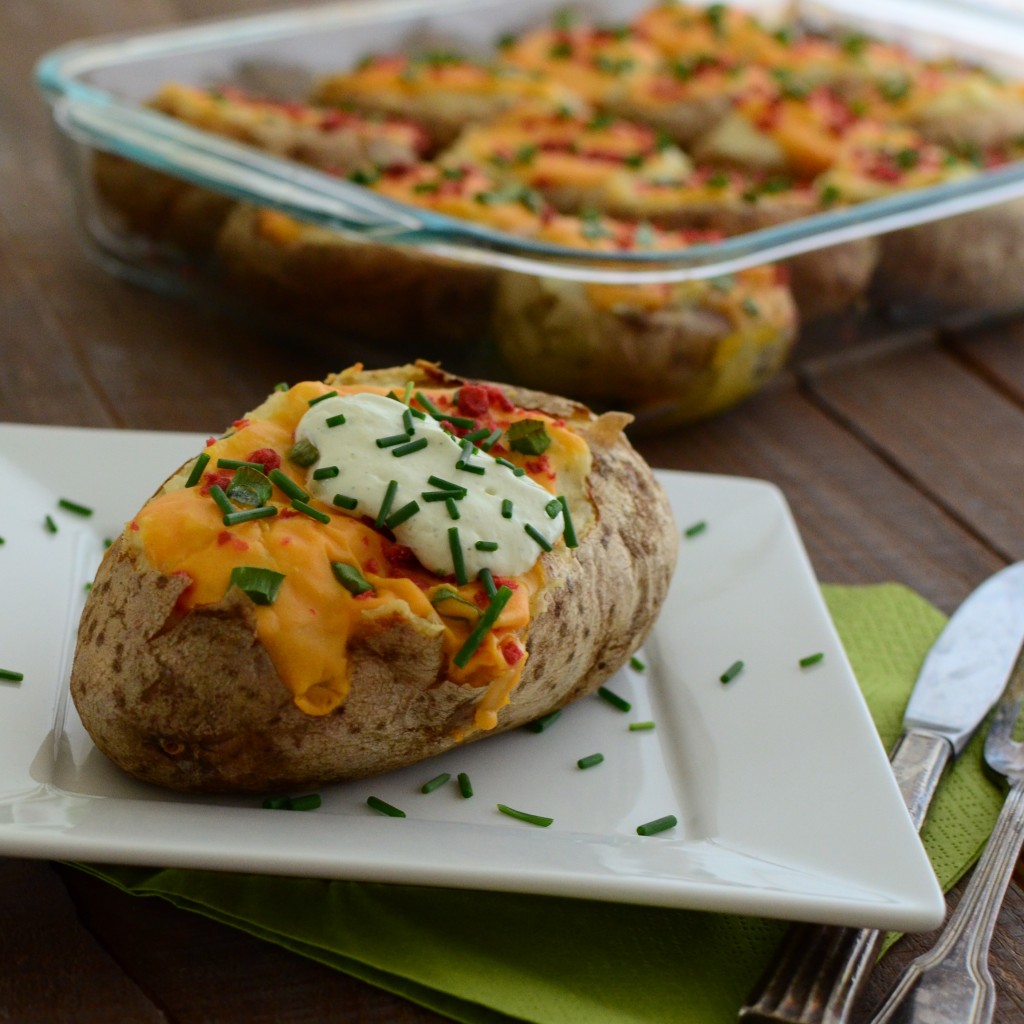 Cauliflower Twice Baked Potatoes
2013-11-16 22:41:43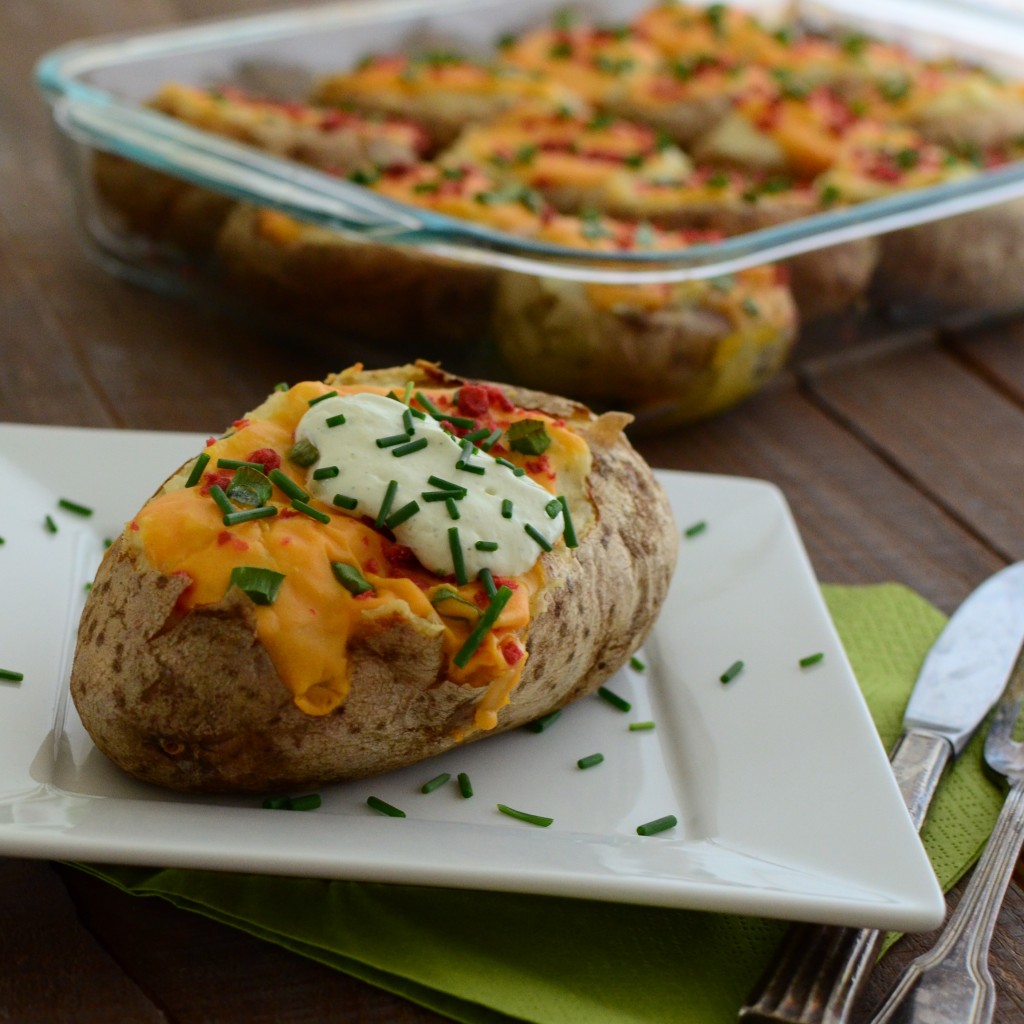 Ingredients
4 lbs. medium-sized potatoes
1/2 Tbsp. olive oil
1/2 head cauliflower
1 tsp. garlic powder
1 tsp. salt
6 fresh chives, chopped (opt.)
1/3 C. vegan mayonnaise
1/3 C. vegan cheese
2 Tbsp. baco bits (opt.)
2 green onions (opt.)
Instructions
First off, this recipe is a bit unconventional but also very flexible. Don't stress it.
Get out a 9x13 baking dish or similar size.
Put all of the potatoes in it. Make sure they all fit in there. Mine turned out to be about 4 lbs.
Then scrub all those cute little potatoes till they sparkle. Just don't scrub the skins off.
Preheat oven to 400 degrees.
Dump those potatoes into a mixing bowl. Toss them around in the 1/2 Tbsp. olive oil.
Place all those potatoes on the top rack of your pre-heated oven. Right on the rack.
Bake them for 1 hour and 15 minutes.
Take all the potatoes out of the oven.
Let them cool a bit, then using a sharp knife, cut the skin off the tops of them.*
Carefully scoop the insides out into a metal mixing bowl.
Arrange the remaining potato skins in the 9x13 baking dish.
Steam or boil the 1/2 head of cauliflower until soft, then puree it in a blender.
In the mixing bowl along with the potato guts, add in the pureed cauliflower, vegan mayonnaise, garlic powder, salt, and chives.
Blend the potato guts together with a hand mixer until creamy and smooth.
Carefully scoop the potato guts back into the potato skins (where they came from in the first place!)
Preheat oven to 350.
Top with a thin coat of vegan cheese.
Sprinkle with baco bits and chopped green onions, optional.
Bake at 350 for about 15 minutes, or until the cheese is just beginning to get crispy on top.
Serve hot. Yum!
Notes
*Alternatively you could cut the potatoes in half and make two dishes of them, but smaller potatoes. It's a toss-up.
Adapted from Minimalist Baker
Adapted from Minimalist Baker
Veggie On A Penny http://www.veggieonapenny.com/