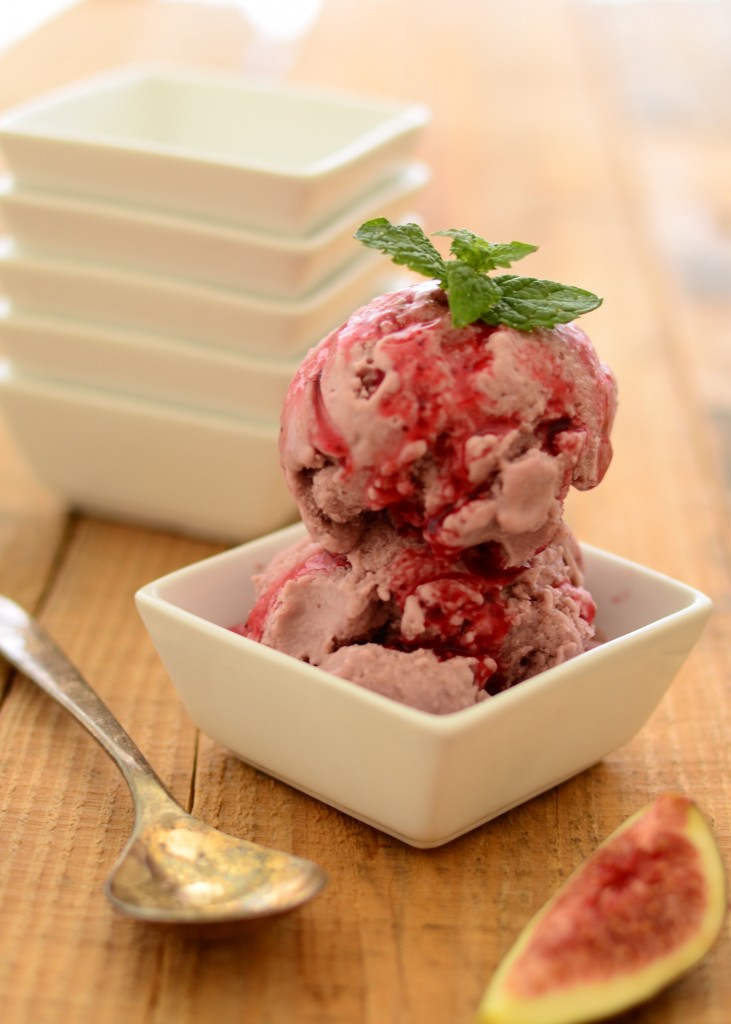 I can just hear you groaning already. I know what you're thinking—how could blackberry fig ice cream possibly make it into Veggie on a Penny? Aren't these recipes supposed to be inexpensive? Seriously.
Hang on a second! Don't be so quick to judge my $1 ice cream. Yupp, you heard me right $1 for the whole batch. So, I know it's not a nice thing to brag and all, but I do feel a little bit entitled to do some bragging since this entire batch only cost me a buck. How exactly did I get eight fresh figs, a few handfuls of fresh blackberries, a lemon, a cup of honey, and a can of coconut milk for One Dollar?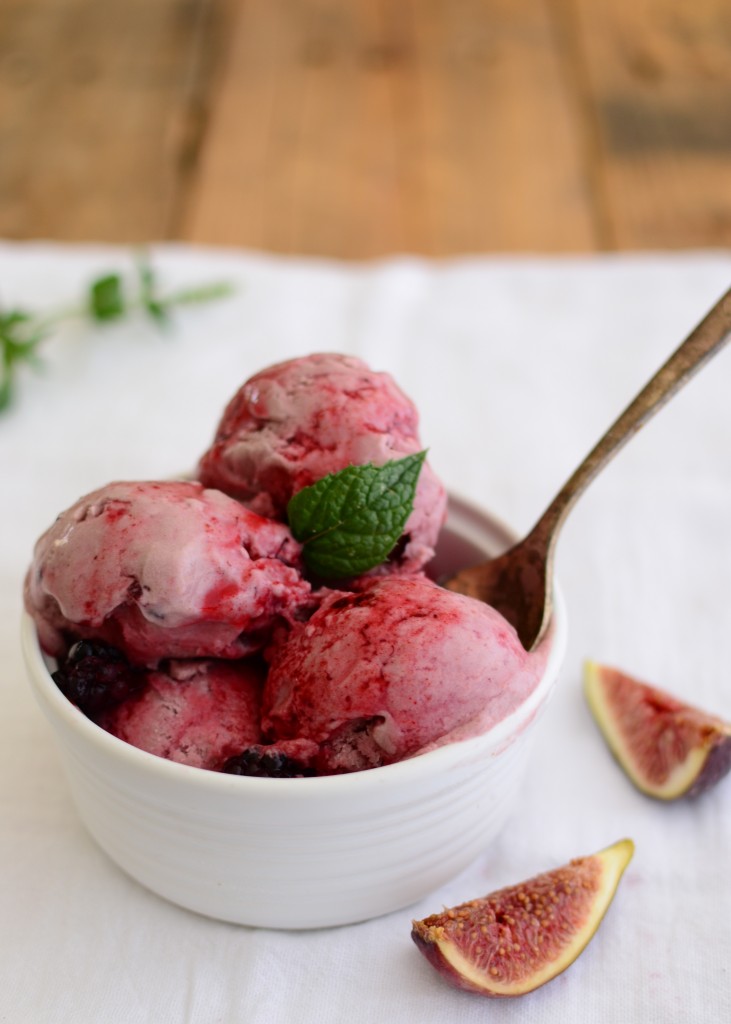 Let's start with the blackberries. Those were the most fun part. Ryan and I are lucky to know about a little local secret—a small stream that runs through the mountains near our home that boasts the most luscious blackberries at this time of year. Last week on Thursday evening he came home a little early so we could take off for an afternoon of berry picking. Super fun and great quality time.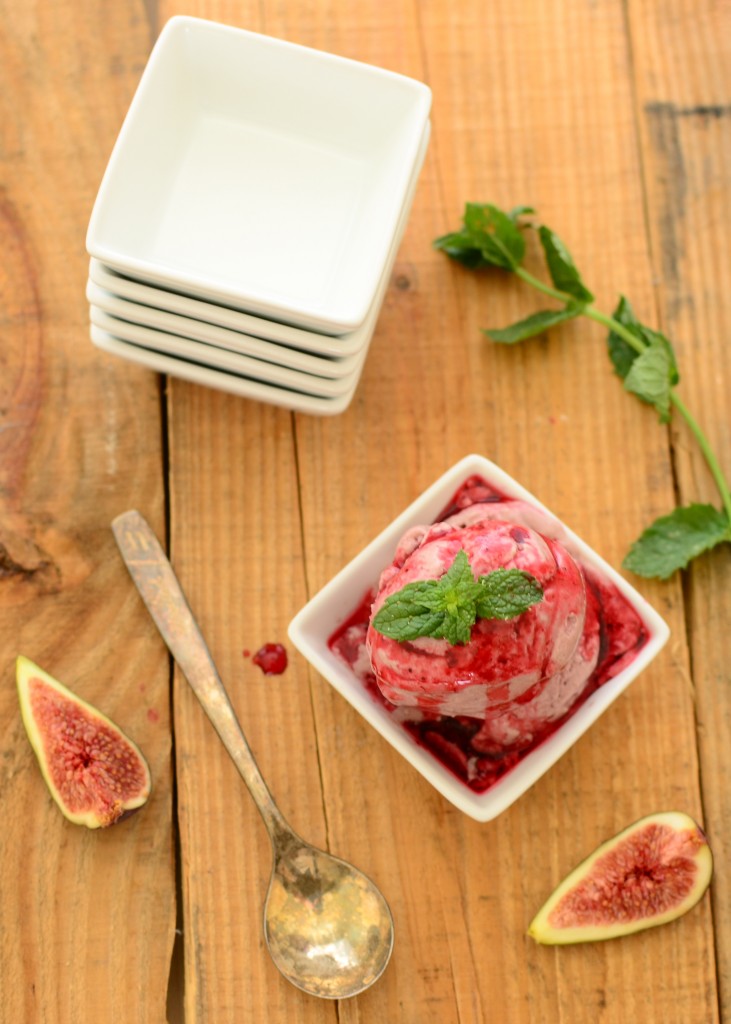 Ok, so I got free blackberries. But what about the figs? Well, those are just three miles the other direction on our friend's fig trees. He's happy to let us come and pick all we want. Yeah, I know we're spoiled. Oh, and that lemon? Same place.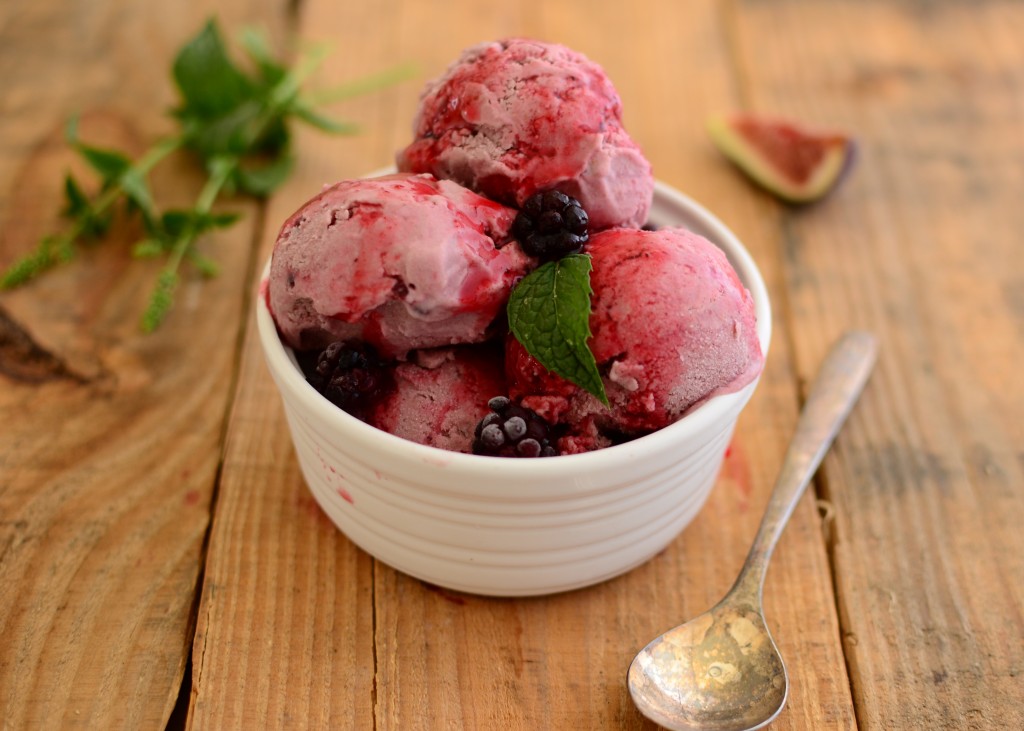 So the honey and coconut milk—how did I get both of those for just $1? First, the honey. You see, my uncle is a farmer who also has a lot of hobbies, including raising honeybees. So the source of the honey lies within last Christmas. There's your answer.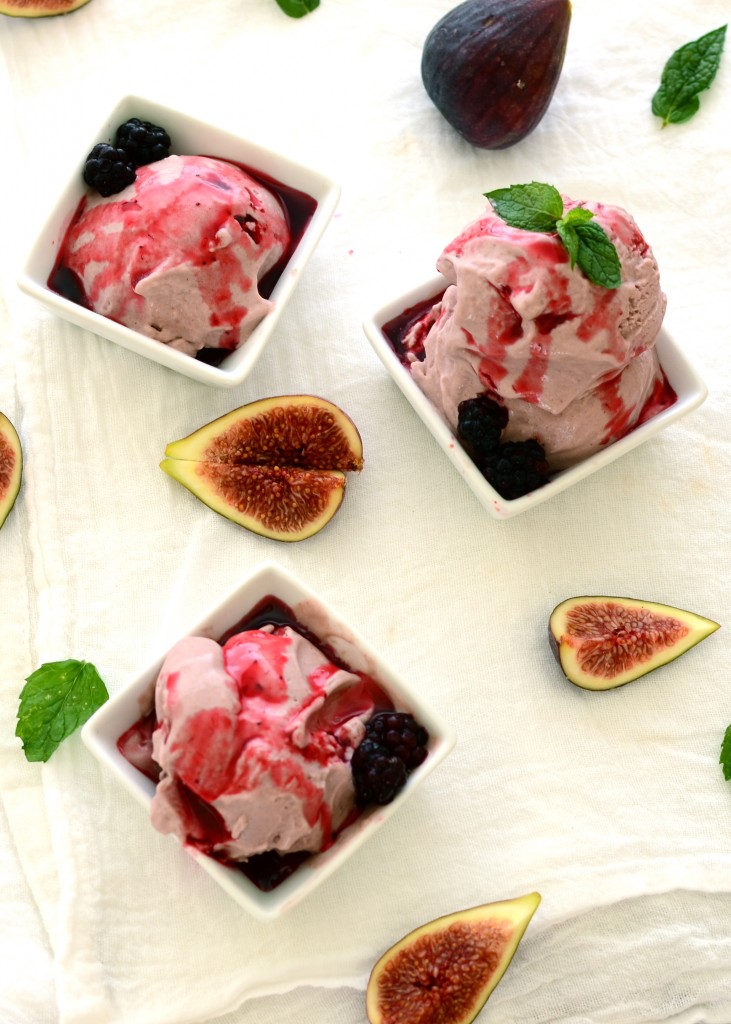 Finally, the coconut milk. Our huge Asian market, also just a few miles down the road, had a sale on coconut milk recently. I got three cases for just a buck a can. Yes, I just said a buck a can. I can make all the homemade ice cream that I want this summer.
And if it just happens to be blackberry fig ice cream, I can make it for just a dollar. If you add up all those ingredients, you can see that it cost me just one buck for this deliciously creamy treat.
So please, don't hate me for a little bragging. And remember, jealousy is a sin.
I want to give a quick shout-out to Green Kitchen Stories for leading me to this all-natural ice cream. These guys have a creative and beautiful food blog–one that's easy to happily lose yourself in. Go check them out!
What are your little local secrets?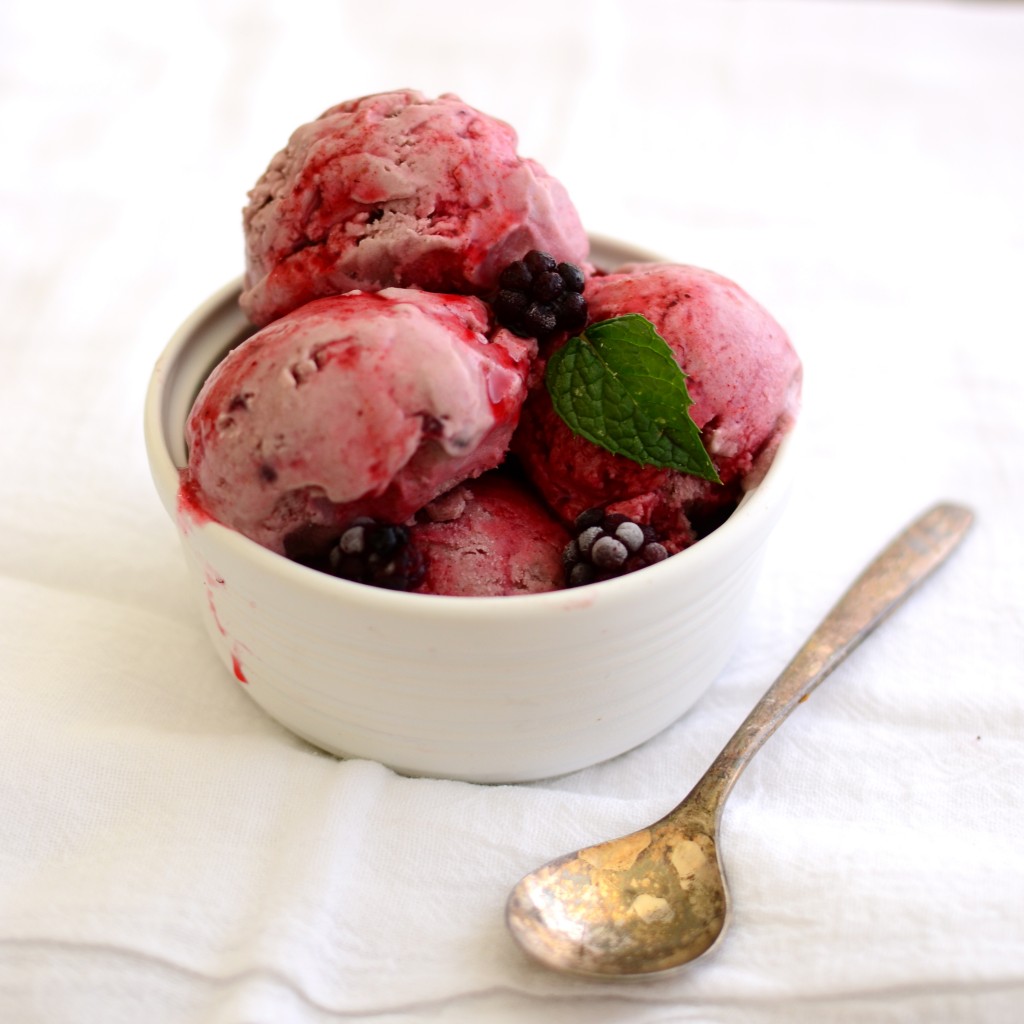 Blackberry Fig Ice Cream
2013-08-25 22:25:12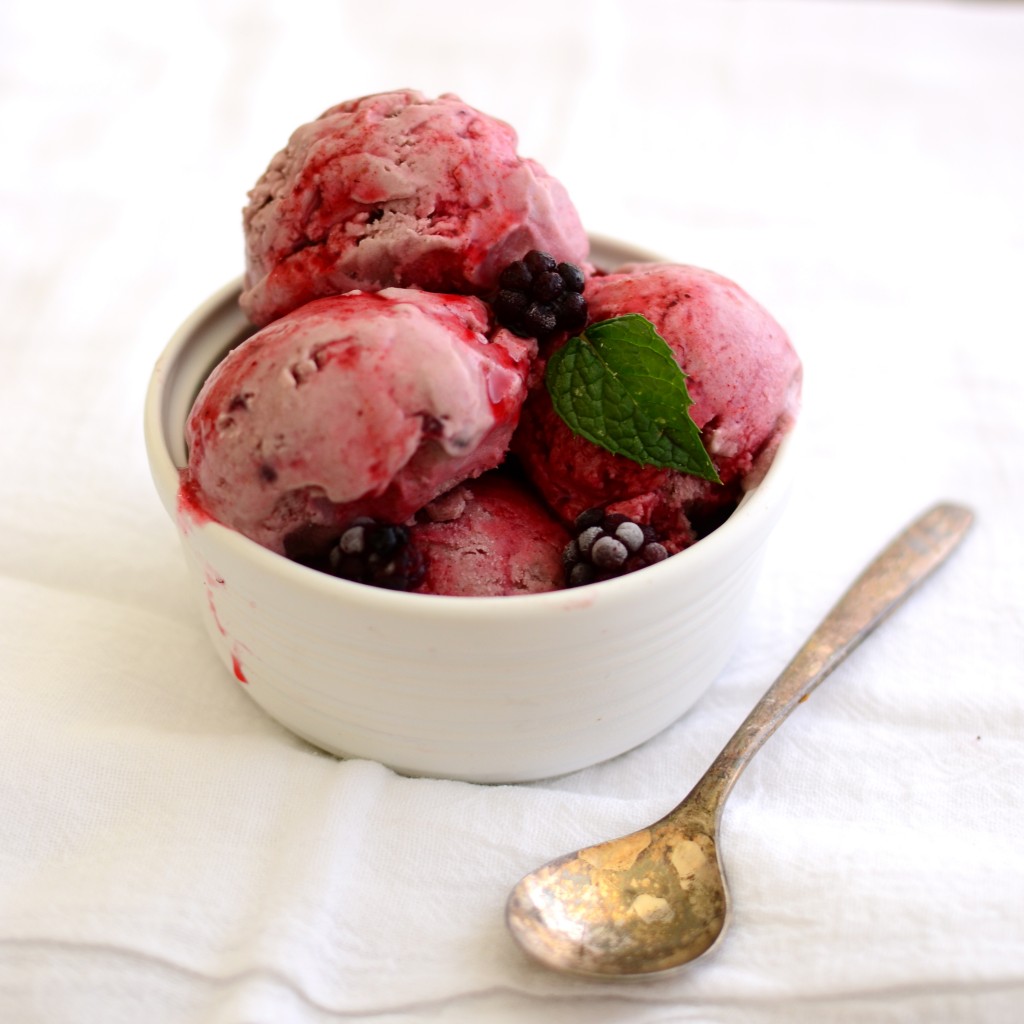 Ingredients
8 Figs (Mission figs are best)
1/4 C. blackberries
1/4 C. water
1 lemon (zested and juiced)
1/3 C. honey or agave
14 oz. (1 can) full-fat coconut milk
1/4 C. juice from blackberries (opt.)
1/4 C. honey or agave (opt.)
Instructions
Slice figs into eighths. In a small pot, add in figs, about 10 blackberries, and lemon juice. Simmer in water on medium heat until jam-like consistency, approx. 20 minutes. Stir frequently.
Pour softened fig mixture into VitaMix or high-powered blender. Add in honey or agave (see notes), and coconut milk. Blend on high for several minutes to make sure that all of the seeds are blended smooth.
Pour mixture into a container and refrigerate until chilled, at least 1-2 hours.
Pour chilled mixture into ice cream maker and churn according to manufacturer's directions, approximately 25 minutes. Serve immediately or chill in freezer for a firmer ice cream.
Optional blackberry syrup
In a small sauce pan, simmer together 1/4 cup blackberry juice and 1/4 cup honey or 1/4 cup agave. Chill. Drizzle over ice cream. Lick the drips off your fingers.
Notes
For this ice cream I used honey, which gave my ice cream a very distinct flavor. Use agave or another sweetener for a more mild flavor to accent the flavors of the figs and berries.
Of all of the vegan ice creams I've made, this one wins in the texture category by far! It is the creamiest ice cream I've made. What's great about it is that it can melt out and still be amazingly creamy when re-frozen. What a deal.
Adapted from Green Kitchen Stories
Veggie On A Penny http://www.veggieonapenny.com/